Three key questions to define an innovation strategy
A concept under constant discussion in the corporate world, innovation remains unfinished business for many companies. Despite investing enormous amounts of time and money, innovation frequently fails, making it a frustrating pursuit for many companies. It is no easy task and even less so if innovation is not integrated in the company's over-arching strategy.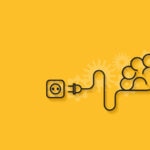 Gary P. Pisano, Harvard Business School Professor analyzes the keys to successful innovation (or at least with greater probability of success) in the corporate world in his article, "You Need an Innovation Strategy" for Harvard Business Review. The article can be accessed for free on OpenMind, BBVA's community of knowledge.
According to Pisano, the biggest mistake many companies make is adopting practices that are in style at the time, or imitating the strategies of other successful companies. Every company is different and there is no single model that works across the board. The key is to align innovation efforts with business strategies.
The first step to develop a good innovation strategy is analysis and having very clear, specific objectives. Excessively general objectives like "innovate to grow", "innovate to create value" should be avoided as much as possible. The more specific the objectives are, the easier it will be to achieve them.
For Pisano, there are three key questions executives should ask when defining a robust innovation strategy:
How will innovation create value for potential clients?
Innovation does not create value unless potential clients are willing to pay more for the product or service, it saves them money or provides them some type of societal benefit. It is critical to decide what kind of value your innovation will create and then stick to it because the resources required for each type of value are different and costly to modify.
How will the company capture a share of the value its innovations generate?
When value-creating innovations are launched, imitators are quick to appear, frequently creating price pressure that can drastically affect the value created by the innovative company. Therefore, once a new product or service is released, companies should consider what complementary products and services could defend them from their competition. Apple is a clear example of an innovative company that "protects" itself by designing complementarities between their services and devices so that customers are loyal to their products.
What types of innovations will allow the company to create and capture value, and what resources should each type receive?
Pisano divides innovation into four categories based on two dimensions: the degree to which the innovation involves a change in technology and the degree to which it involves a change in business model.
– Routine innovation: based on existing technology and fits with the current business model.
– Disruptive innovation: requires a new business model but not necessarily a technological breakthrough.
– Radical innovation: here the challenge is purely technological.
– Architectural innovation: combines technological and business model disruptions.
Many believe that disruptive, radical and architectural innovations create more growth but that is not necessarily true. In fact, the majority of profits are generated from routine innovation.
If you want to learn more about innovation in companies and other related issues, don't miss the collection of Harvard Business Review articles available for a limited time for free on OpenMind, BBVA's community of knowledge.