Garanti BBVA shares its expertise of green finance and sustainability
The Atlantic Council in Turkey and the European Bank for Reconstruction and Development (EBRD) recently held the 'Renewable Energy Outlook Conference: Financing, Investment, Regulation, and New Technologies in Turkey, Central Asia, the Caucasus and the Western Balkans'.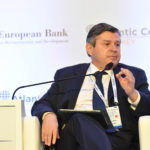 Senior executives from 29 international companies and ministers from countries in the region recently met in Istanbul to discuss regional cooperation and renewable energy investment opportunities. Conference participants discussed the latest energy developments in Turkey and in countries across Central Asia, the Caucasus, and the Western Balkans. They also addressed current policy-making, regulatory trends, the investment environment, integration of renewables in the grid, and the outlook for further technological innovation.
Álvaro Ortiz Vidal - Abarca, BBVA Research's Chief Economist for Turkey, attended the event on behalf of Garanti BBVA. He participated in a panel session entitled 'The Transition toward a Subsidy-free World' where he shared details of Garanti BBVA's activities around sustainability and green finance.
The only option is to deliver on our promise to fight climate change
"BBVA and Garanti BBVA are both leaders in sustainable finance. It is clearer than ever that we chose to go in the right direction. We will continue to move forward to assure our position of leadership as we build a more sustainable future," Ortiz said. The expert reassured BBVA commitment to sustainability, "There is no plan B for the planet, so the only option is to deliver on our promise to fight climate change."
The BBVA expert on transformation described sustainability as a major opportunity for the financial sector, in Turkey and abroad, explaining that the financing needs for sustainability are still significant. Achieving the sustainable development goals (SDGs) worldwide will require an order of magnitude of around between $5-7 billion per year.
Ortiz indicated that there is still a lot of work to be done to reach the targets for renewable installed capacity in Turkey, saying "Actual wind capacity is still 40 percent of the 2023 targets, so the annual rate of change will need to reach near 25 percent to close the gap. We expect the appetite for renewables to increase as the world takes energy sustainable goals more seriously. Sustainability has become a critical topic on political, social and corporate agendas as it has become clear there is no other option."