In a show of confidence from international markets, Garanti Bank signed an oversubscribed syndicated loan facility with demand from foreign banks reaching above $1 billion.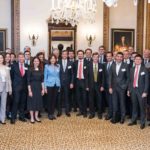 The new facility consists of $326 million and €409 million with a 367-day maturity, outstripping the targeted $600 million due to a strong and diversified order book. The syndicated loan attracted commitments from 35 banks across 18 countries, including first time lender banks from China, Qatar and Spain. New commitments comprised 25 percent of the deal. The facilities will be used for general trade finance purposes including export and import contracts, with all-in pricing standing at Libor +2.50% p.a. for U.S. dollars and Euribor +2.40% p.a. for Euros.
Garanti used its strong correspondent bank network and visits to Europe, the Middle East, and the Far East to drum up interest in the transaction. The resulting high demand led to a transaction total of $784 million.
Demand quantity was matched by quality, seeing support from banks that either had not recently been involved in transactions of this kind or banks that had not yet been involved in this particular deal. Approximately one fourth of the transaction was composed of entirely new contributions.
Speaking about the deal, Garanti BBVA President and CEO, Fuat Erbil, remarked, "In line with its vision of being Turkey's first bank of choice for international banks and investors, Garanti has demonstrated its leading position in the market with its strong correspondent bank network, experienced team, and success in creating employment."
The head of Garanti expressed satisfaction with the resources created by the bank from alternative funding channels, the greater than expected demand, and participation in the transaction from a broad range of banks."This transaction has once again demonstrated the confidence that international markets have in the Turkish banking sector, and Garanti's ability to create sustainable funding in the foreign financing market." Erbil concluded.