Garanti BBVA was named the winner of a Gold Stevie Award in the "Best Annual Report" category for its 2019 Integrated Annual Report published under the tagline, "The Next Decade." The Stevie International Business Awards is the only global awards program that recognizes well-known international companies and executives for their achievements.
More than 250 executives worldwide evaluated approximately 4,000 organizations and executives from more than 60 countries in order to determine the winners. Garanti BBVA is the first bank to use an integrated annual report to disclose the value it has created for the economy and society. It was recognized for its Digital Report Assistant, a dialogue-based AI solution without precedent in Turkey.
The 2019 Integrated Annual Report, which Garanti BBVA management used to deliver a 2030 outlook addressing how its various lines of business will be shaped by mega trends and transforming business models, received three other major awards throughout the year. Garanti BBVA won the Silver Award at the Vision Awards, which are organized by the League of American Communications Professionals (LACP), a group noted for significant participation from Fortune 500 companies. The bank also received the Bronze Award at the Mercomm ARC Awards and  was named one of the top 10 worldwide in the Corporate Register Reporting Awards, the only awards program covering corporate responsibility reporting.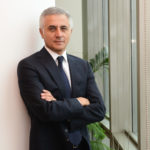 Garanti BBVA CEO Recep Baştuğ.
Commenting on the honor, Garanti BBVA CEO Recep Baştuğ said technology has changed our lives as never before. "Understanding the new experiences made possible by technology and evolving business models has been critical". "At Garanti BBVA, we have aligned our purpose of 'bringing the age of opportunities to everyone' to these new experiences, complementing our business model with a technology-driven strategy that puts people at the center of everything we do," he added.
We will continue to focus on value creation for all our stakeholders
Baştuğ went on to discuss the approach the company takes when preparing its annual reports. "We approach the publication of our reports with an integrated mindset that prioritizes responsibility and transparency and communicates how we manage our risks and opportunities". "We couldn't be more pleased to have our efforts recognized by international authorities. We will continue to focus on value creation for all our stakeholders." he emphasized.