Garanti BBVA's support to the Turkish economy in 2021's first 3 quarters reached half a trillion TL
Türkiye Garanti Bankası A.Ş., has just reported its financial statements as at 30 September 2021. Based on the consolidated financials, the Bank's net income in the first 9 months of the year was recorded as TL 9.071,591k. Realized Assets were reported of TL 630,848,420,000and the Bank's contribution to the economy via cash and non-cash loans was TL 499,840,175k. Focusing on customer happiness, deposits continued to be the main funding source; 68% of assets are funded via deposits. The deposit base reached TL 428,204,119k, with 20% growth in the year's first 3 quarters. Maintaing the strong capital stance, the bank's capital adequacy ratio was realized at 15.65% (Except for temporary measures taken by BRSA)(. The Bank delivered an ROAE (Return on Average Equity) of 19.2%** and an ROAA (Return on Average Assets) of 2.2% ( In calculations of average return on assets and average return on capital, one-off items are not included in annualization of net profit.).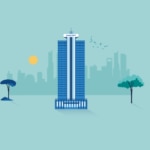 Garanti BBVA CEO, Recep Baştuğ says; "We have reached the end of the first nine months of 2021 with successful results amid the continued effects of the global pandemic. We continue to grow by generating capital, thanks to our business processes and products that are constantly being improved in the light of new developments. We continuously improve our customer experience and expand the scope of our impact with the concrete steps we take in the field of responsible banking.
Our TL loans grew by 22% and reached 253 billion TL in the first nine months of 2021. During this period of continued strong domestic demand, both our commercial and consumer portfolios have continued to grow in a balanced and steady manner and our market share in TL loans has increased by 1 point to 10.6% since the beginning of the year, becoming the leader among private banks1. We have made our asset quality very clear and visible by accurately and transparently classifying our loans on the back of our prudent and proactive approach that we carry from our past. We have been consistently improving our asset quality. This prudent stance and our strong capital base allows us to grow and contribute to the economy uninterruptedly."
Recep Baştuğ continues: "Digitalization, as well as active balance sheet management, has been one of the most significant features distinguishing Garanti BBVA within the sector for many years now. We sustain our investments to provide our customers with a complete end-to-end digital experience. We have exceeded 10 million users in Garanti BBVA Mobile, which is currently the highest number of active mobile customers among banks. Along with the remote customer acquisition process, we can reach customers that we have been unable to reach until now, with the easy solutions we have produced as both the Bank and Garanti BBVA Payment Systems. Garanti BBVA Payment Systems, which can be identified as one of the first FinTechs in Turkey, provides services to 9 different banks today. In addition, there are 25 million cards registered to Garanti Pay - our digital payment application - which demonstrates the power of our technological infrastructure in which we have invested for many years.
In my opinion, companies should not ignore the climate crisis and its effects, just as they cannot remain indifferent to the developments in technology. In this context, we are pioneers in the transformation of the business world by achieving many firsts both in Turkey and globally. We recently became the first and only Turkish bank to join the Net-Zero Banking Association, founded by the United Nations, which supports the mobilization of the entire financial system to achieve the goals of the Paris Agreement. The Net-Zero Banking Association, founded by the United Nations, brings together 84 banks from 36 countries, which represent around 40% of global banking assets and are committed to aligning their lending and investment portfolios with net zero emissions by 2050. The climate crisis is evident in a wide variety of areas.  We all remember the mucilage problem, which affects thousands of species living in the marine ecosystem. Keeping this in mind, we, in collaboration with the TURMEPA association, have launched the Mavi Nefes Project, an initiative to clean up the waters and, more importantly, to raise awareness and thus  prevent marine pollution. With this project, we aim to leave cleaner seas for future generations, especially the ecosystem in the Sea of Marmara.
At Garanti BBVA we value not only the impact we have created in the economy, but also the value we add to the environment, social life and technology, and we act with this awareness. I would like to thank all of our stakeholders, especially our customers who supported and trusted us in this journey together, along with my colleagues who made a great effort and contribution in this process."
Summary of Financial Data on Accounting Period Operating Results:
▪ Average return on assets: 2.2%.
▪ Average return on equity: 19.2%.
▪ Support provided to economy via cash and non-cash credits reached TL 499,840,155k.
▪ Market shares of total performing loans, TL credits and FX credits are 10.2%, 10.6% and 9.4%, respectively.
▪ Since the beginning of the year, total customer deposits grew by 18.7% and market share reached 10.3% level.
▪ Share of demand deposits in total deposits reached 45%.
▪ Capital adequacy ratio is reported as 15.65%*, i.e. above the legal limit of 12.1%.
▪ Rate of non-performing loans is reported as 3.8%.
* Except for temporary measures taken by BRSA