In 1939, composer Steve Reich was a boy taking a train from New York to Los Angeles to visit his divorced parents. Meanwhile, other children in Europe – Jews, just like him – were taking trains to Nazi extermination camps. Fifty years later, the contrast between his childhood memories and the horror of the Holocaust inspired Different Trains. Beatriz Caravaggio offers a video re-creation of the musical piece.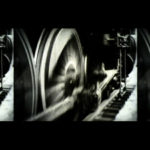 Winner of the Grammy for the Best Contemporary Classical Composition in 1989, Different Trains is a musical piece for a string quarter and tape. The piece includes recordings of real U.S. and European trains in the 1930s and 1940s, as well as the voices of people sharing their experiences during World War II.
Caravaggio's video artwork – which is being shown until March 5th at no charge at the BBVA Foundation's headquarters in Madrid– also uses real documents from this time period. The films made by the Nazis themselves, and later by the Allies, document the deportation, extermination and liberation of European Jews.
The artist made a selection of all these materials and reorganized the images – frame by frame – to create a storyline that is displayed on a screen divided into three parts to the beat of Reich's music.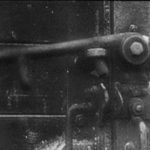 The first movement of the piece, America – Before the War includes the voices of Reich's nanny and a U.S. train worker mixed with music and train whistles. The composer's words recall the extremely long train trips he took as a boy between New York and Los Angeles to visit his divorced parents.
His childhood memory stands in sharp contrast to the second movement that fervently recreates what happened to thousands of Jewish children like him at the same time in Europe: the deportation trains – a one-way trip to the Nazi extermination camps.
The voices of three Holocaust survivors – Paul, Rachel and Rachella – and the sullen howl of the sirens accompany the instruments in this part of the piece.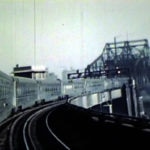 The final movement features the voices of the same survivors after the war has ended, as they wonder if the war is actually over. The images of everyday city life are combined with the indelible marks of the Holocaust. 
Beatriz Caravaggio's video gives Reich's score new visual life. In fact, the composer, who has also has made multimedia creations like The Cave (1989-1993), commended Carvaggio's work.