Some of the UK's top talent in the world of fintech were in Madrid this week to pitch their ideas to a selection of BBVA's senior leaders.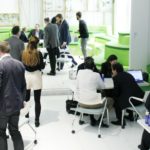 The event, which was organized by the U.K. Government's Department for International Trade (DIT) saw 12 high-growth financial technology companies visit the Spanish capital to outline the ideas they think will change and shape the banking sector in the future.
The idea was simple. The companies got to present their solutions to a packed room, before sitting down with the bank's executives for 'speed-dating' sessions where they got to learn more about the opportunities the bank is looking to solve, and explain how their product would work to meet those challenges.
The event, held at the BBVA Innovation Center, is part of BBVA's wider commitment to working with high-growth technology companies – both as partners with the bank, and as an enabler to help them connect with other customers and businesses. Last year, for example, BBVA connected with more than 1,200 fintech start-ups around the world via its Open Talent contest and helped them reach other potential customers and clients.
Opening the event on behalf of the DIT, Conor McGurk, The U.K.'s Director of Trade and Investment for Spain and Portugal, said:
The UK is not just a world leader in fintech, we are also a world leader in promoting our fintech capability through events like this.
"It's a fantastic opportunity for these innovative companies to pitch their ideas to a business the size of BBVA and I hope that by the end of today you will see it has been a fantastic opportunity for BBVA as well to meet the people that you will work with in the future.
Marisol Menéndez Álvarez, who heads BBVA's Open Talent team, said: "BBVA is committed to working with the best fintech business from across the global ecosystem to help shape the future of our business, and events like this are incredibly valuable for us.
"For BBVA, it is about connecting high growth businesses like those here today with our internal partners within the bank – so that together they can discuss the opportunities we have and how external partners can help us meet these challenges.
"Last year we connected with more than 1,200 startups from across the globe, including many from the UK, and this year we will do even more, both through events like this and the soon to be launched ninth iteration of our Open Talent series - which this year will be even bigger than ever."
The focus of the 12 firms at the event ranged from identity protection to innovative forms of credit scoring and regtech to cross border SME payment solutions.
One of those pitching was Alpima – who's catchline is Smart investing made simple. They explained how their product solved a core problem for financial services - how do you offer  personalized rule-based investing at scale. Their modular B2B solution allows clients to invest in specific areas that they are interested, combining the best of human and AI machinery.
Another pitching was iProov who provide secure facial recognition identity authentication, via a range of devices including mobiles, for online users using facial recognition. They outlined how their innovative facial recognition system uses a unique lighting method, which changes every time someone offers an image for authentication, to minimize fraud.
As well as purely fintech solutions, BBVA is also running an ideas competition aimed at finding a solution to the issue of what a good banking model could look like in the current era of historically low interest rates.
Meanwhile BBVA's ninth Open Talent initiative – aimed at uncovering the best new fintech ideas from around the globe, will launch in the next few weeks.