Let's face it. Saving money is not easy, especially when at every turn, it seems there are more wants that feel a lot like needs. It can be a hard fought battle.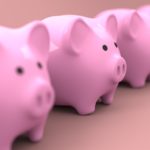 But, when the battle is won, saving money can also be addictive. The safety net it provides is a feeling no physical object can match. To help get started, financial institutions provide options for savings accounts with a range of flexibility when it comes to interest, fees and withdrawal of money.
The most common accounts include savings, money market and CDs, or certificates of deposit. Each account type provides some form of interest, which generally increases the more restrictive the account is about withdrawing money. For instance, CDs generally have higher interest rates, but they also have terms, meaning you can't access your money for a specific time frame, usually from six months to three years. Accessing your money before the term is up means you may pay a fee.
To read more about savings accounts, read this BBVA Compass MoneyFit article that describes the different types and provides examples of specific situations where each might have advantages.
If you're interested in reading more about the options for savings that BBVA Compass provides, click here.