For many Americans, their home is their greatest source of wealth. It is for this reason — and many others — that the housing market has always been an extremely important part of the U.S. economy. What's more, studies have shown time and time again homeowners are more active in their communities, healthier and less likely to be victims of crime. Simply put, home ownership is good for our citizens, our communities and our country. Which is why over the years, the U.S. government has created programs designed to make homeownership accessible for more Americans.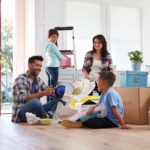 In 1934, as the country was coming out of the depression, Congress created the Federal Housing Administration (FHA) to provide government backing for mortgages with the goal of encouraging lenders to make more home loans.
Similarly, in 1944, a program providing government backing and less-restrictive lending requirements for mortgages made to U.S. military veterans was established.
While the FHA and Veteran's Administration (VA) programs have been modified over the years, both exist today and continue to offer more Americans the chance to own their piece of the American Dream.
Conventional (Non-FHA and VA) Mortgage Requirements
To understand how FHA and VA loans help more Americans purchase homes, it's important to know the requirements for non-FHA or VA mortgages, which are commonly called conventional loans.
Well-qualified borrowers typically opt for conventional mortgages — even though they could potentially qualify for FHA loans — because property guidelines are more flexible and higher loan amounts are available. In addition, Private Mortgage Insurance (PMI) is not required with a conventional loan if a sufficient down payment is made.
While they vary by lender, conventional mortgages require a fair-to-excellent credit score (mid-700s minimum) and a preferred cash down payment of 20 percent of the home's purchase price.
Many private lenders offer conventional mortgage loans, and there are no restrictions on who can apply. The U.S. government provides no backing or guarantees for most conventional loans.
FHA Loans: Low down payments and less-restrictive credit requirements
Today, FHA loans are often an option for borrowers who might not qualify for conventional loans.
For an FHA loan, borrowers need to have a minimum credit score of 580 and a down payment of at least 3.5 percent of the purchase price.
Borrowers are required to purchase Private Mortgage Insurance to protect the lender in case of default. In most cases, a PMI premium is required at the time of purchase, and then annual premiums are included in monthly mortgage payments.
FHA loans can only be made by FHA-approved lenders, and these loans are government-backed. Interest rates on FHA loans are typically lower than conventional loans and in many cases, borrowers who've had credit problems may be able to qualify for FHA loans more easily than they would conventional loans.
Even though FHA loans are often favored by first-time buyers and borrowers with cash or credit challenges, anyone can apply for an FHA loan.
VA Loans: No down payment requirements for qualifying military personnel
As the name indicates, VA loans are designed to help active U.S. service members and veterans purchase homes.
For VA loan applicants, a credit score of at least 620 is desirable. There are no down payment requirements, which is also called 100 percent financing. There are no PMI requirements for VA loans, and the interest rates on VA loans can be more competitive than conventional loan rates.
VA loans can be originated by any private lender and are government backed. However, they are only offered to U.S. military veterans, active-duty military members and qualifying family members.
Helping More Americans Buy Homes
At BBVA , we offer a range of affordable mortgages options — including FHA and VA loans — to help more Americans achieve their dream of owning a home. Learn more about mortgage lending at BBVA online or stop by any bank location.
---
Click here to read more homeownership articles on our personal finance blog, MoneyFit.
Our HOME program – Home Ownership Made Easier – was created to put homeownership within reach. Click here to learn more.