Did you know? There are more than 1,300 different roles within BBVA—and they all play a critical role in creating opportunities for our customers. Over the coming months, we'll be profiling some team members and sharing how they're Working for Our Customers.
Do the places you shop know you too well?
Timely, individualized marketing messages are more commonplace today thanks to the burgeoning field of data analysis. The teams responsible for this work allow companies to gather and interpret customer data to create and market more relevant products and services. BBVA is on the leading edge of this  work, deploying data and analytics professionals across its global footprint to better serve and amaze its customers.
Director of Customer Intelligence and Big Data Ekin Baykal Caliskan cites data expertise as a key area of recruitment for the bank right now.
"Every company that has been collecting data is now seeking the expertise to leverage that data to advance the company's goals," she said. "We have a lot of competition for data expertise positions, but the good news is that we offer interesting work, competitive salary and benefits, great tools, and opportunities for mobility."
And, as Customer Intelligence Analyst Stacy Kam noted, every day is different, which keeps her engaged and excited to come to work.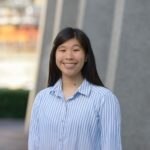 BBVA USA Customer Intelligence Analyst Stacy Kam
"When we get intriguing data results that we can't explain right away, that's when we get to play detective," she explained. "You'd be surprised at how much creativity goes into a data analysis role, as we look at different ways to explore the data and tease out very specific intelligence from it."
For example: Kam's team built a tool to categorize customers by level of activity and their channel of preference (email, website, etc.). In this approach, data is used to optimize the relationship with  customers by engaging with them through their preferred channel and proposing offers that align with their behaviors.
Kam expects the field of data science to grow, especially as the number of digital tools and transactions continues to increase. Her assessment is backed up by Glassdoor's latest "50 Best Jobs in America" list, where Data Scientist nabbed the top spot on the list.
"A company without data would be like a millennial without a GPS," she said. "In order to make the best decisions, we must study our past to be better able to develop a machine-learning algorithm to predict our future."
---
To explore U.S. career opportunities at BBVA, click here.
Click here to read more articles and stories about the bank's employees, culture and workplace efforts.