Business Banking Officer (BBO) Chris Sievers's relationship with the Colorado bank that would eventually become BBVA began more than 20 years ago when he was in high school, contracting as a handyman for the bank. This May, Sievers celebrates an official 20 years with BBVA and his journey, like many here at the bank, is one of opportunity and internal mobility. He shared how BBVA has fostered his growth and development over the years, from one career-enriching role to the next.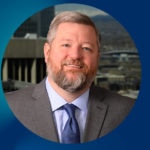 You started by doing contract work as a handyman. What led you to become interested in banking?
I knew banking was a good career path, and the people who worked here seemed to like what they did. I had worked as a retail manager at a fast food franchise and a movie rental chain, but I wanted to do something more professional that might lead to more opportunities, and banking was appealing.
What was your first true role at the bank?
I started at BBVA in what we now call the Customer Experience Operations Manager (CEOM) role. While in that role, I had the opportunity to assist the District Retail Executive at that time, Art Valde (currently the Regional Services and Operations Manager for Denver), and learned how to perform the duties of every position in the retail branch.
Describe that career progression from CEOM to Branch Retail Executive (BRE).
That on-the-job training with Art prepared me for my next role as a Branch Retail Executive—a role I stayed in for 14 years. My first BRE role was at the Cherry Creek branch, and then I had a number of  opportunities to grow from there. I helped open the Park Hill branch, moved to the Eagle Bend branch and saw great success, and then was called upon to help a branch in our area improve—which it did. And then, I got to serve as the BRE at our flagship branch in Colorado, Castle Pines.
What made you interested in becoming a Business Banking Officer?
There was a change to the BRE role in 2017 to place more of an emphasis on business banking. I found that I loved this customer segment and going out and finding new business. I consistently exceeded goals in the business banking category, and Director of Business Banking Sales Bob Stanley took notice and felt I'd be a good fit for the Business Banking Officer (BBO) role.
How has BBVA contributed to your growth and development?
I've taken advantage of several training opportunities at the bank. BBVA paid for my 6 and 63 variable investment licenses, as well as the health and insurance license, which enabled me to sell investment and insurance products, provide greater assistance to my clients, and grow professionally while increasing my earning potential.
Why have you decided to stay at BBVA for the past 20 years?
BBVA offers the best support and an untouchable product line that makes our jobs so much easier. You get the comfort of working for one of the biggest banks in the world, while still getting that small town bank experience here in Colorado. Plus, the income and career opportunities are great.
Where do you see your career going at BBVA? 
We're so fortunate that our executive leadership takes the time to meet with every market and share their vision for the bank, and I want to be here to see it through. Right now, I simply want to grow and be the best at my current role and see what the future holds. It's been a great ride so far, and I know more opportunities await.
---
To explore U.S. career opportunities at BBVA, click here.
Click here to read more articles and stories about the bank's employees, culture and workplace efforts.