Head of U.S. Compliance Solutions Carolyn Veizaga leads BBVA USA's Compliance team in the management and execution of global projects, relying on her more than 17 years of experience in financial services, project management, and consulting. We took a moment to get her perspective on motherhood, mentorship, and diversity as a female leader at BBVA.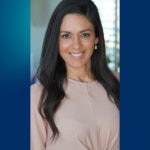 Tell us about your professional career at BBVA.
Carolyn: I joined BBVA in 2018 as a Strategic Planning Specialist for BBVA USA's Compliance team and managed strategic planning, budgetary oversight, departmental processes, and organizational management. Early this year, I grew my role as Strategic Planning Specialist into my new role as the Head of U.S. Compliance Solutions. I still hold the same responsibilities but now lead the deployment of the global strategy for the U.S. Compliance team and manage projects according to the Single Development Agenda (SDA) with the help of the newly formed Compliance Solutions Team. This team of dynamic project managers embodies a wealth of compliance expertise and now provides sustainable end-to-end execution to all Compliance-owned initiatives.
Which project or stage of your career are you proudest of?
Carolyn: I have two career moments that I'm particularly proud of—one from a previous job and one from my current role.
In the previous role, I led a team through key aspects of a rebranding. We were tasked with tying the department's vision to the company's in a tangible and executable way with a laser focus on our associates. Our team improved employee engagement, increased volunteerism, established a training development process, and reinforced the need to hire diverse teams, which positively impacted the culture.
In my current role, we've been implementing a new Agile organizational structure while also ensuring the entire U.S. Compliance team could effectively transition to working remotely in response to the pandemic; which we have been doing successfully for the last six months with no impact to the business. I am so proud of the U.S. Compliance team that quickly adapted during a very challenging time, created new ways to stay connected virtually, increased efficiency with improved processes, and are continuing to meet the needs of our associates through One Team support, flexibility, and empathy.
What motivates you?
Carolyn: I'm motivated by my drive to be successful, my family, my manager and team, and my desire to make a positive impact. I also have great advisors that lead by example and provide many opportunities to learn, grow, and strive for that next milestone.
What's been your biggest career challenge, and how have you faced it?
Carolyn: My longest and hardest career challenge has been working to eliminate the wall of bias around working mothers. It's always been my desire to have a successful career and children, and I have been determined to build a family at the same time as building my career.
I have faced this working mother bias head-on by proactively taking on challenging roles and projects through every opportunity either offered to me or seized on my own. To be successful at work and home, I strategically plan my time in the office to find balance, knowing that it continually changes based on business market needs and the stages of my children's development. I learned to never apologize for having to be with my family, and I am working on reducing my "mom guilt" when work calls me away from home.
However, work-life balance was flipped upside down when the pandemic hit and work and family life became one; everything had to be reevaluated and adjusted to better support our new reality. I learned that I don't have all the answers and parenting during a pandemic with a full-time job became my biggest career challenge ever.  But that saying "it takes a village to raise a child" is true and BBVA became a part of my village thanks to the support and creative solutions the company provided.
My goal is to continue building a community of working mothers to support each other and to reinforce to ourselves and all colleagues that we belong here. To ensure my commitment is never questioned by work or family, I show up fully present in the time I commit to each. I'm not ashamed to ask for help when necessary from the support system I've built, and I always schedule time to take care of myself so I can be healthy for those who depend on me.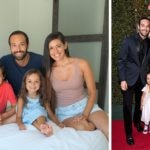 Photo 1: Head of U.S. Compliance Solutions Carolyn Veizaga with her family | Photo 2: Veizaga with her family attending the movie premiere for Disney's "Timmy Failure," a film her son Santiago (second from right) has a starring role in.
What advice would you give to someone who just joined BBVA?
Carolyn: BBVA offers many opportunities for all of us to grow and learn professionally and personally. Take advantage of these tools and own your self-development. Find a mentor who inspires you and will hold you accountable—not a friend or buddy, but someone who will challenge you to be the best you.
Most importantly, you picked a great company that is committed in the fight for equity and social justice at every level. Always know you can bring your full self to work. BBVA is a safe space and has an Employee Assistance Program that is available if you ever need support during these challenging times.
How do you think we can encourage and promote diversity?
Carolyn: Study what unconscious biases are and require everyone to be trained in identifying and countering them, especially people managers.
I once had to take a week-long training on unconscious biases, and it was a week of life-changing self-discovery. Following this training, I was able to help my team acknowledge differences and create an inclusive environment by hosting opportunities for cultural awareness. We're practicing this by recruiting a pool of diverse candidates for open roles and ensuring we have a diverse interview panel.
Describe BBVA in three words.
Carolyn: Transforming. Opportunities. Sustainability.
What attributes do you value most when you work with someone?
Carolyn: Communication, positive attitude, and perseverance.
---
At-a-glance
Place of birth: Houston, Texas
Hobbies: Hiking, Running, Yoga, and Cooking
Last vacation: Joshua Tree, California
Favorite book: The Alchemist by Paulo Coelho
Favorite movie: Hamilton Musical on Disney+ 
Favorite song: "Two Step" by Dave Matthews Band
---
Click here to read more articles and stories about the bank's employees, culture and workplace efforts.
To explore U.S. career opportunities at BBVA, click here.