As Head of Client Engagement for BBVA USA Talent & Culture, Reba Simmons plays an important role in helping the bank create opportunities for its employees. Her team of Talent & Culture Business Partners provides consultative advice to bank leaders to help recruit, retain, and develop talent, with our values central to every action taken and recommendation given. We took a moment to get her perspective as a female leader at BBVA.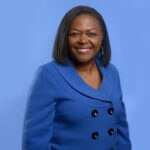 Tell us about your professional career at BBVA.
Simmons: I began my career at BBVA in the fall of 2016, when Talent & Culture was in the early stages of its Agile transformation—a pivotal time in the bank's history. The banking industry of today is a fast-paced, disruptive, innovative environment, and I've been fortunate to play a key role in our transformation, helping our business units navigate new ways of working that will continue to propel us forward.
What is the defining moment in your career?
Simmons: In my early 30s, I was invited to a meeting to discuss an employee benefits issue with the president of the university where I worked. The proposed solution would have negatively impacted low-earning employees and benefited those at the top. So instead of staying quiet (which I was told to do), I came prepared to the meeting with data in hand to advocate for the employees who would've been hurt by the change. The courage it took to do that paid off when the president agreed with my recommendation.
What motivates you?
Simmons: Helping others realize their potential. Through my work at INROADS, a non-profit that works to develop and place talented at-risk youth in business and industry and prepare them for corporate and community leadership, I'm able to make a real impact in people's lives. It's gratifying to hear stories from seasoned professionals who say that if it wasn't for that program, they wouldn't be where they are today. It's enough to keep me volunteering for another ten years or more.
What's been your biggest career challenge, and how have you faced it?
Simmons: In my late 20s, I was asked to serve as the interim Chief Human Resources Officer for the children's hospital where I worked. Managing peers and employees who were older than me was a big challenge, but I found that by understanding what's important to employees, I could lead with their best interests always at heart.
What advice would you give to someone who wants to have a great career?
Simmons: Be a chameleon. Change isn't going anywhere, but if we're open-minded and adaptive to change, the opportunities available are limitless.
How do you think we can encourage and promote diversity?
Simmons: Stop talking about it, and do it. Embrace and appreciate others' differences, so that everyone feels comfortable bringing their whole selves to work.
Describe BBVA in three words.
Simmons: Challenging. Amazing. Opportunity.
What attributes do you value most when you work with someone?
Simmons: Transparency. I value colleagues who aren't afraid to disagree and who don't judge me for what I don't know. After working for 25 years in healthcare, I appreciate those team members who helped me embrace and understand the financial services industry.
---
Click here to read more articles and stories about the bank's employees, culture and workplace efforts.
To explore U.S. career opportunities at BBVA, click here.