50 Best BBVA Scholarship: A dream come true for aspiring chefs
After working at the Mugaritz restaurant, Jessie Liu of Taiwan went abroad to continue her training at the Atelier Crenn restaurant in San Francisco. There she spent six weeks working for chef Dominique Crenn. This gave her the opportunity to discover new professional flavors and improve as a chef in two of the best restaurants in the world.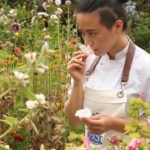 Jessie Liu was the first recipient of the 50 Best BBVA Scholarship. More than 1,000 aspiring chefs from 82 countries participated in the competition. Winning the scholarship gave Jessie the opportunity the work with two of the world's best chefs: Andoni Luis Aduriz from the Mugaritz restaurant in San Sebastian and Dominique Crenn from the  Atelier Crenn restaurant in San Francisco.
She made the most of the first part of her scholarship with Aduriz, expanding her culinary training. The next ingredient in the recipe was working at Atelier Crenn for six weeks. "My six weeks there was like a roller coaster ride," says Liu. The young student especially appreciated the combination of ingredients and the elegance of Atelier Crenn's dishes: "I think here it's less about fancy techniques and more about making simple things taste amazing and look beautiful."
If Mugaritz taught her about making fun and surprising dishes, and evoking the senses through their creations, in San Francisco she learned about combining humble ingredients to create "culinary poetry". Jessie compares a dinner at Atelier to an art exhibition, while the experience at Mugaritz is more like going to the circus.
Ready to rock and roll
Jessie was surprised by how charismatic chef Dominique Creen is. "She is cool, kind and and full of good vibes. Every time she comes into the kitchen she dances, shouts, and chats with everyone to make sure we are all having a good time. She is the soul of the restaurant - the kind of person that cheers everyone up at work. I wish one day I have the same level of confidence and charisma."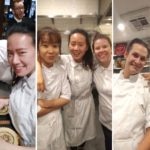 Jessie Liu sharing moments with her colleagues at the Atelieir Crenn - Jessie Liu
Jessie considers Dominque her culinary role model and is very thankful for the opportunity she gave her. The chef wrote a dedication to the young Taiwanese chef: "Life is a journey full of discoveries. Keep dreaming, keep dancing, and be you!"  Probably the best advice she could have received from one of her idols.
Once the scholarship is over, Jessie is going to rest and go back to Taipei, where she's from, to see her family and friends. She would like to go back to Europe one day: "I hope I can get a chance to return to Spain because I really want to learn more about Basque cuisine, Spanish culture and local culinary traditions.
The winner of the first 50 Best BBVA Scholarship ends her story by explaining how this opportunity whet her palate for learning, seeing the world and engaging with surprising people with the same interests. And she encourages other aspiring chefs to participate in the next edition of the 50 Best BBVA Scholarship in 2019, which will take the winner to restaurants in Singapore, London and Mexico City. "The three-month experience is pretty intense, but you'll be rewarded with an unforgettable adventure."