The World's 50 Best Restaurants and BBVA launch 2019 Scholarship programme for aspiring chefs
Aspiring chefs from all around the world can land a place on a prestigious scholarship scheme, with the launch of the 50 Best BBVA Scholarship from The World's 50 Best Restaurants and Banco Bilbao Vizcaya Argentaria (BBVA). Entries are now open for the initiative, which is its second year.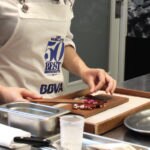 The annual scholarship scheme identifies talented chefs and seeks to develop their potential with the aid of internships or 'stages' in the kitchens of some of the world's best restaurants.
For the 2019 scholarship, the recipient will be invited to work at:
Odette, Singapore, led by Chef Julien Royer
Core by Clare Smyth, London, led by Chef Clare Smyth
Quintonil, Mexico City, led by Chef Jorge Vallejo
The stages will take place between June and November 2019. The successful entrant will be flown to Singapore to attend The World's 50 Best Restaurants 2019 awards ceremony in Singapore, where he or she will have the honour of appearing on stage in front of the world's leading chefs and media.
Aspiring chefs with less than three years' experience in a professional kitchen, as well as ambitious culinary students, are invited to apply online. The scholarship is open to chefs aged 18 and over from any part of the world. The three-part judging process will be overseen by the 50 Best team with input from host chefs Julien Royer, Clare Smyth and Jorge Vallejo, as well as representatives of BBVA. Full details of the terms and conditions of entry are outlined on the scholarship entry website.
In a new development for 2019, The World's 50 Best Restaurants will offer the two runners-up the opportunity to intern at a restaurant in their region.
Jessie Liu, a 24-year-old chef from Taipei, Taiwan, was the first recipient of the 50 Best BBVA Scholarship, which launched in 2018. She spent time at Atelier Crenn in San Francisco, USA, and Mugaritz in San Sebastian, Spain. Liu said: "This is the best opportunity for a young chef to learn, to see the world and meet amazing people in the same industry. The three-month experience is pretty intense and not for the faint-hearted, but you'll be rewarded with unforgettable adventures, badass friends, tasty food, culinary knowledge, and so many good stories to share. Trust me, you'll have the time of your life!"
Clare Smyth, chef-owner of Core by Clare Smyth in London, said: "'When I was starting out in my career I had the opportunity to learn from some of the best chefs in the world and that experience was invaluable,' says Clare Smyth.  'I believe it is important to help inspire and support the next generation of chefs through initiatives such as the 50 Best BBVA scholarship so that our industry continues to evolve and flourish."
Oscar Moya, Global Head of Branded Content and Sponsorship at BBVA, said: "We are very glad to continue our partnership with 50 Best in order to propel the careers of aspiring chefs. Our purpose is 'To bring the age of opportunity to everyone' and we are thrilled to support the opportunities this project brings to future gastronomic leaders. Best of luck to everyone who enters!"
William Drew, Group Editor of The World's 50 Best Restaurants, said: "The 50 Best BBVA scholarship launched earlier this year to help nurture the next generation of great chefs. It received a fantastic reception and we had an impressive calibre of entrants from across the world. We're delighted to be working with BBVA again this year to offer the opportunity to learn from some of the best chefs in the business. We have been overwhelmed by the support this initiative has generated from the global restaurant community so far, and we particularly want to thank Julien, Clare and Jorge for offering to host the 50 Best BBVA Scholarship winner in the summer of 2019."