For those of us watching from the shore, surfing seems like nothing more than a hobby, but it's so much more than that. It's a passion that has won the hearts of people around the world. Pure adrenaline. But it's also a sport that requires motivation, patience and a lot of sacrifice.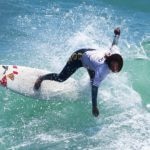 "My career has never been simple. I have always had to go against the current, overcoming various obstacles along the way," says Analí Gómez, who at the age of 29 has been World Champion of the 2014 Isa World Surfing Games, as well as South American, Bolivian, Latin American and Pan-American champion.
"My career has never been simple. I have always had to go against the current, overcoming various obstacles along the way
She is a brave, determined and admirable athlete. A source of national and international pride. She has had to overcome many obstacles, however. Perhaps one of the most difficult was last week while receiving the laurel wreath for her world championship title, when she revealed through tears that she could no longer represent Peru due to a lack of sponsors.
Competing at the highest level of surf is very expensive and even though the Peruvian Institute of Sports (IPD) provides a salary for top athletes, it is not enough to cover all the expenses to participate in international competitions, or buy a surf board every month. These athletes need to find a private sponsor to support them.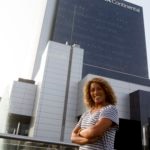 When it seemed like Analí had lost all hope, and she even said she felt discriminated against, BBVA Continental's advertising area listened and supported her talent, so she could continue fighting for her dreams in the toughest competitions in the world.
So Analí will ride BBVA Continental's digital wave. Many Peruvians are still hesitant to make inquiries, send transfers of make purchases online or through mobile banking. Analí will be a spokesperson to promote digital financial education and will accompany the bank in new projects.
"I was never afraid of the ocean. Since I was little I would always play in the waves because my dad is a fisherman. When I was 11 years old I decided I wanted to ride the waves I saw in front of my house and I did it. Today, I'm 29 years old and nothing has changed my passion for the ocean. That's why I'm so happy because starting today, a brand that is achorada like me is going to ride the waves with me. Now I'm on the Rider BBVA Continental team and we're going after everything," wrote Analí in her social networks in appreciation.
Our champion is no longer alone. Today, BBVA Continental is accompanying her as she goes after her dreams, riding the waves together.