Every day at BBVA, more than 136,000 professionals do their best to meet the needs of 67 million customers. Most people only know about the experts in finance, law, personnel and facility management, and technology, but there are many other employees who quietly make important contributions. For instance: Rodolfo Vargas, a waiter at BBVA Bancomer—Mexico, who on many occasions has an impact on customers' opinion of the bank.
Rodolfo carefully folds a napkin and places it perfectly on the tablecloth. He recalls the first time he did that more than 30 years ago. Recalling those times makes him nostalgic for a certain dish: "Baby eel a la bilbaina. We haven't served that dish in a long time," he says smiling.
He says he has seen it all in the last three decades. "Nationalized banks, privatized banks, mergers. ... Every change offers you something." After all this time, he's still enthusiastic: "I love my job. You always have to give it your all. Of course, everyone makes mistakes, but if you fall down, you have to pick yourself up again."
What he says must be true, because everyone speaks highly of him. "There is no secret," Rodolfo says "It's just a question of consistency and serving everyone from the heart, doing things well. You have to put yourself in the customer's place and offer them what you have without promising things you can't deliver." Consistency and serving from the heart are key.
"That is what teamwork is: everyone lends their voice in order to produce a single melody
According to Rodolfo, the only barriers to success are the ones we erect ourselves. "You have to be very open. Doing your job everyday with gusto takes you to places you would never expect. I never thought I would be in the position I currently find myself. I never would have imagined it. It changes everything and gives you another outlook on life."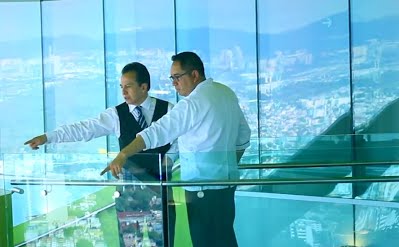 The perfect cocktail
Rodolfo has the recipe for the perfect cocktail. "Having the best products and paying attention to detail," he says. "After you mix it, the customer will enjoy it and come back for more."
"Having the best products and paying attention to detail
He's aware of how important his job is. The bank's most important customers have sat at his tables. We asked him if he has overheard things he shouldn't have. He laughs: "Yes, but I don't say anything because it wouldn't be ethical." The list of people he has served is endless. "What makes me the happiest is when someone who has moved to Spain or Houston remembers me when they return."
Customers and BBVA employees who are waited on by Rodolfo are guaranteed to receive the best service. They can rest assured that they will be in good hands.
Profile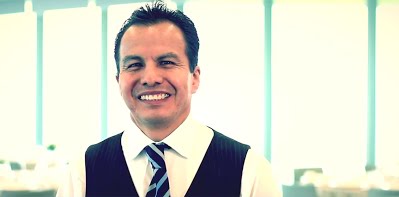 Name: Rodolfo Vargas
Position: Waiter at company restaurant [BBVA Bancomer – México]
Function: To ensure customers leave happy or don't want to leave at all
Hobby: Music
Dream: For my son to get a good job
For dessert, music
When he finds time after work, Rodolfo and some friends of his at the bank play music together. "We have a teacher who gives us a series of exercises. Everyone practices on their own and then we all get together to rehearse.
"This also helps him at work. "You get used to someone giving you advice, someone who corrects you when you're doing something wrong.  And you also learn how to correct those who make mistakes. That, in essence, is what teamwork is: everyone lends their voice in order to produce a single melody.
"It also helps to have a positive attitude, which has become his most salient trait. "Music is a way of motivating yourself," he says. "You have to work, but you also have to find time to enjoy what you have. If you feel good, those around you will feel good, too."