BBVA and Renovalia sign the first renewable energy, green project finance facility in Spain
Renovalia is the first company to secure a 'green project finance' loan to fund the development of a renewable energy project in Spain. BBVA acted as 'green loan coordinator' of this €74 million facility, which will allow the company to fund Project Wind, which envisages the construction of two wind farms, one in Lleida and one in Barcelona, with 70 MW of combined installed capacity.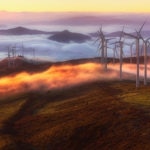 External consultant G-advisory was commissioned to draw up the environmental, social and governance (ESG) assessment report, as well as to assess compliance with ICMA's Green Bond Principles, a requirement for any loan to qualify as 'green.'
Renovalia Energy is a company specializing in the development, engineering, construction, operation and sale of electricity generated through renewable energy sources. The company manages a technologically and geographically diversified project portfolio totaling 830 MW of installed capacity. One of the industry's leaders, Renovalia's energy mix is one of the most balanced in the market, and has allowed the company to become a one of the largest clean power utilities.
BBVA, a leader in sustainable finance
BBVA has the capability, knowledge and experience to provide its customers with top-quality advice on sustainable finance solutions in both bonds and loans, and is playing a key role in developing both markets.
In the green loans business, in which BBVA has been a pioneer and is a fundamental driving force, the bank closed 2017 as the most active entity worldwide, with a total of 11 operations in Europe and Latin America for clients from various sectors and is the undisputed leader in Spain.
BBVA's 2025 Commitment
In line with the European Commission's Action Plan on Sustainable Finance, BBVA has recently announced its 2025 Commitment, the Bank's climate change and sustainable development strategy designed to make progress in the achievement of the UN Sustainable Development Goals (SDGs) and the Paris Climate Agreement.
This is an eight-year commitment (2018-2025) based on the three pillars of finance, management and engagement. BBVA undertakes to mobilize €100 billion in green and social finance, sustainable infrastructures and agribusiness, social entrepreneurship and financial inclusion.
In its commitment to manage environmental and social resources and minimize the potential direct and indirect negative impact, BBVA has set a target for 2025 that 70% of the energy used should be renewable, and to reduce direct CO2 emissions by 68% on the 2015 figure.
In addition, BBVA has agreed to involve all its stakeholders to boost the financial industry's contribution to sustainable development.