BBVA Group Executive Chairman Francisco González, and the Chairman of the CAF -Latin American Development Bank-, Luis Carranza, signed a memorandum of understanding (MOU) that strengthens their ties in Latin America and formalizes the existing institutional relationship the two organizations have shared for many years.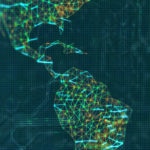 The purpose of this agreement is to formalize the good relationship the organizations maintain and lay the groundwork for future collaboration. In the MOU, BBVA and CAF agree to collaborate in the areas such as:
Regulation: monitoring of financial systems, financial regulation, digital regulation and structural issues that affect CAF member states, which both parties consider relevant.
Innovation and technology: collaboration in technological platforms for the dissemination of information; and in innovation, to create financial products with a high social impact or technological content.
Corporate Social Responsibility: promotion of best practices in Corporate Social Responsibility; financial education, financial inclusion, through the use of technology, of people who are traditionally excluded; and the promotion of micro-finance.
Business: promotion of financing for foreign trade and the development of capital markets in Latin America.
Project development: co-financing of infrastructure projects and the exploration of direct and intermediate financing lines for previously agreed upon sectors, such as agriculture, SMEs and the fight against climate change.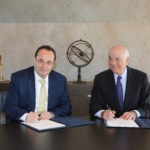 Luis Carranza, Chairman of the CAF and Francisco González, BBVA Group Executive Chairman
BBVA and CAF have shared a long and fruitful history of financing projects in Latin America in areas such as capital markets, project finance, trade finance and credit lines. Furthermore, the organizations sit on many of the same boards of various institutions and co-sponsor education programs such as the Ibero-American Public Leadership, which will take place in November this year.
CAF -Latin American Development Bank- is a development bank created in 1970, owned by 19 countries - 17 of Latin America and the Caribbean, Spain and Portugal- as well as 13 private banks in the region. It promotes a sustainable development model through credit operations, non-reimbursable resources, and support in the technical and financial structuring of projects in the public and private sectors of Latin America. It is one of the main sources of multilateral funding and an important creator of knowledge for the region.