BBVA Compass celebrates "51 Ways to #LiveBright in Houston" list with cocktail soirée
On Tuesday, Jan. 31, BBVA Compass and national television personality and lifestyle expert Sandra Lee invited guests to celebrate the bank's "51 Ways to #LiveBright in Houston" at the "BBVA Compass Big Game Headquarters" located at 5201 Green Tree Road in Tanglewood. The guest list for the cocktail reception included the people, places, and things affiliated with the "51 Ways" list along with local influencers.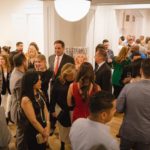 The list was established in conjunction with BBVA Compass' #LiveBright campaign, which highlights people and influencers in the bank's footprint who positively impact and build bright futures for their communities. The list was also printed in 100,000 copies of Modern Luxury, and was distributed at strategic locations throughout Houston leading up to the big game on Feb. 5.
"We are proud of what Houston has become, and we are proud of its bright spirit," said BBVA Compass Chief Marketing and Digital Sales Officer Jennifer Dominiquini. "We knew the world was coming to Houston, and we knew there was a lot about this city that people didn't know. The people at this cocktail, the same people featured on this list, are what make this city shine and make it a city of the future."
Attendees at the exclusive event mingled while listening to musical creations from DJ Rocky of OM Events and sipped on glasses of prosecco and wine. A Fare Extraordinaire provided tray-passed hors d'oeuvres that included artful Edamame Truffle Dumplings, Beef Teriyaki, Herbed Polenta Cubes, Smoked Salmon Torte, and vanilla bean crème brulee bites topped with raspberries.
Tastemakers in attendance included Great Day Houston (KHOU-TV) host Deborah Duncan, Roula & Ryan Show (KRBE-FM) host Roula Christie, Menil Collection Development Director Karen Sumner, and Lynn Wyatt, among others. CNN Latin America host Ariel Crespo conducted on-camera interviews with BBVA Compass' Houston CEO Mark Montgomery, Sandra Lee, Ecuador native Adrian Dueñas, principal at high end home décor concept BeDesign, and world-renowned Chef Joan Roca of El Celler de Can Roca in Girona, Spain.
Roca's restaurant has been named no. 1 in the world by Restaurant magazine twice recently in the past few years. Roca was also presented with a signed copy of the bank's "51 Ways" list from Sandra Lee as an honorary award for his extraordinary work in Houston as a bank brand ambassador.
Roca was also presented with a signed copy of the bank's "51 Ways" list from Sandra Lee as an honorary award
The party was held at the BBVA Compass Big Game Headquarters, a spacious 8,900-square-foot home in the exclusive Tanglewood neighborhood of Houston. The cocktail party kicked off a multitude of big game-related activities taking place at the home over the course of the days leading up to Feb. 5.
The first floor of the Davis Builders' residence was decorated with lighting from Circa Lighting and interior design aesthetics provided by Nina Magon of Contour Interior Design. Magon partnered with Adrian Dueñas, of the modern furniture store BeDesign, to stage the luxury home for the soirée and other activations during the week as part of BBVA Compass' presence in Houston during the big game week.