BBVA customers in South America keenly take up use of digital channels, especially mobile banking
Compulsory quarantine due to COVID-19 has led to increased use of digital channels, especially mobile banking services, as can be seen in the BBVA franchises in South America.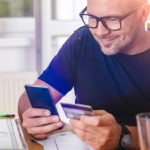 In Perú, BBVA recorded a 55% year-on-year increase at the end of April in monetary transactions carried out through digital channels overall, while the increase was even greater in the use of mobile banking specifically, with a 68% rise. The rise in internet banking was only 3%.
The increased use of digital tools that the bank has at its customers' disposal resulted in far more frequent transfers to third party accounts and payments for services, two of the transactions that are most often carried out by mobile banking. In internet banking, service payments lead the ranking.
In Peru, BBVA opened more than 130,000 accounts through digital channels at the end of the fourth month of the year, eight times more than in the same period in 2019.
Similarly, in Argentina, BBVA's mobile banking app was more widely used than in April last year. Due to COVID-19 the bank saw a record number of logins, with a year-on-year growth of 87.7% for the app and 28.5% for online banking.
We also see the impact of the pandemic on transfers made by bank users, with a record high in April. While the growth of this type of transaction was driven by online banking, which recorded a 64% year-on-year increase in transferred funds, mobile banking transactions grew by 74.3%.
In addition, the number of unique visitors using the 'app' grew by 67.95%, compared to only 5.41% on the web. The average number of page views per visit rose by 34.84% for the app; the average time spent using the app and on the web grew by more than 20%.
Similarly, between February and April, BBVA's customers in Colombia increased use of digital channels by more than 70% year-on-year, with a higher growth in mobile banking, close to 80%, while the increase in web use was just over 60%.
In the first months of the year digital channels mostly handled transfers and service payments, especially via mobile phones: transactions grew 200% and 60%, respectively. On the bank's website, standout transaction types included purchases of mandatory road traffic accident insurance (SOAT) and online card applications for internet purchases.
In Paraguay, BBVA's digital customers increased 13.9% year-on-year in April 2020 for individuals and 2.4% for companies and institutions. In this country the bank saw an 18% increase in the number of service payments through digital channels.
In Uruguay, the bank also increased the number of people and accounts with access so far this year, both on BBVA Net and in the BBVA app and the payments app, especially in March and April, when more than one million logins were registered.
BBVA continues to encourage its customers in Latin America to make greater use of digital channels and refrain from leaving their homes more than strictly necessary, as the number of infections continues to rise in most countries in the region.