BBVA issues $2 billion in senior preferred debt filed with the U.S. Securities and Exchange Commission
BBVA placed on Thursday a $2-billion issue of senior preferred debt filed with the U.S. SEC. The issue consists of two tranches, with a maturity of three and five years: The three-year tranche accounted for $1.2 billion, while the five-year one reached $800 million. Demand topped a maximum of $5 billion, with 210 orders, and the book closed with orders of $4.5 billion: $2.5 billion for the three-year tranche and $2 billion for the five-year tranche. Investors' appetite allowed for the starting price to be set lower. The interest rate has been set at the U.S. Treasury rate plus 75 basis points spread for the three-year tranche (versus a starting spread of 100 bps) and a 100 bps spread for the five-year tranche (vs. a starting spread of 125 bps).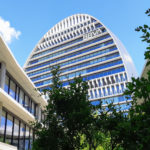 This is the third time BBVA is launching this type of issue, which is filed with the U.S. Securities and Exchange Commission (SEC), allowing the participation of investors from the U.S. and the rest of the world.
The majority of investors are Americans (up 89.7% in the five-year bond tranche and 79.5% in the three-year tranche). The rest of the investors are from Europe and the Middle East and to a lesser extent from Asia.
The debt issue is BBVA's seventh this year and the second as senior preferred. This is also the first deal with this type of debt instrument in U.S. dollars since October 2015 and the third being filed with the SEC. The rationale for this deal is 3-fold: to obtain a good price compared to issues in euros; to optimize the MREL (Minimum Requirement for own funds and eligible liabilities), aiming to replace two previous senior preferred issues of €1 billion each that are in their last year as eligible debt issues to calculate this ratio. Both issues will drop from the calculation of the ratio in January and April 2021, respectively. Finally, the deal aims to diversify the investors base in the Group's funding.
The two tranches of the issue have maturities in September 2023 and September 2025, respectively, and a starting price of U.S. benchmark Treasury bond plus 100 bp (for the 3-year issue) and 125 bp for the 5-year issue.
JP Morgan, Bank of America, BBVA, Crédit Agricole, Credit Suisse, Morgan Stanley and Wells Fargo are the issue's bookrunners.
In 2020 BBVA has had six debt issues: a £300 million Tier 2 subordinated bond and a first ever AT1 green bond in July; the first issue of a COVID-19 social bond as senior preferred debt issue in May; a senior non preferred issue in the Swiss market in February, and a senior non-preferred issue and a Tier 2 subordinated debt issue in January.