BBVA Foundation and the Spanish Computer Science Society hand out their Research Awards
Driverless cars capable of behaving like bird flocks, software capable of playing sheets of music composed during the Renaissance, algorithms capable of analyzing emotions expressed by social media users and tools for boosting people's learning abilities… These are just some areas on which the winners of this year's edition of the Spanish Computer Science Society (SCIE) - BBVA Foundation Research Awards have focused their work.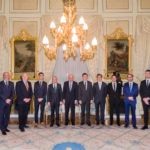 The awards ceremony organized by the BBVA Foundation to honor the awardees was attended by BBVA Foundation Chairman Francisco González and SCIE Chairman Antonio Bahamonde. During his speech, Francisco Gonzalez recalled the early days of his career as a software developer and spoke about his enduring fascination with technological innovation: "Society poses new challenges for the scientific community. Some of the most pressing ones include guaranteeing the security of information and IT systems, regulating privacy in an efficient manner, avoiding the drawbacks of some emerging social media practices while preserving their tremendous potential." Also, González raised another pivotal issue: "The paramount challenge of instilling a map of values in intelligent machines, an ethical GPS that can guide the use of Artificial Intelligence.
For his part, Antonio Bahamonde underscored the essential role of education in helping students develop computer skills and called for the need for kids to start receiving formal computer science training as early as primary education "so that we can all build essential skills to face challenges, dispel fears and foster critical thinking about a technology that is going to change our lives in such a profound manner."
The awards consist of two separate modalities: A category for young computer scientists, to recognize the most innovative and relevant PhD research works, and a second award to honor outstanding careers in this area.
The breeding ground of progress
The Young Computer Science Researchers award distinguishes the most innovative and relevant PhD works by computer scientists under 30 in Spain. It recognizes the "creativity, originality and excellence" of young PhD holders, as set out in the candidacy submission criteria. Each awardee in this category will also receive a cash prize of €5,000.
Jorge Calvo is one of this year's awardees. A researcher at Universidad Politécnica de Valencia, Calvo merited the accolade for his work in the development of an AI-powered optical sheet music recognition software program, which allows computers to play musical notes and understand their meaning.
Damian Roca, a researcher at Universidad Politécnica de Cataluña, won the award for his studies on how flocks of birds synchronize their movements, to fly closer to each other avoiding collisions, while travelling at the same speed and in the same direction. Combining biology and engineering concepts, Roca Marí developed has developed his novel 'hierarchical merging behavior' concept. Thanks to this concept, which applies the organization rules that govern flock movements and a hierarchy, he was able to simulate the organization of large fleets of self-driving cars.
As for the remaining awardees, Daniel Peralta developed an app capable of identifying fingerprints in early stages of new drug developments; Raúl Mur, whose work focused on tri-dimensional maps of our surroundings and now works at Facebook Reality Laboratories; José Antonio Ruipérez developed a tool that teaches us and rebuilds learning; and David Vilares, who developed an algorithm to understand emotions based on comments posted online, such as good and bad reviews of a product.
A legacy for the future
The national Computer Science Awards recognize the contributions of researchers and public and private institutions in the area of computer science.
Vicent Botti, professor and researcher at Universidad Politécnica de Valencia, was one of the awardees in this year's edition for his achievements over three decades of work devoted to Artificial Intelligence. One of his goals is learning how to model how loss aversion affects economic decisions. Thus, it is possible to analyze the behavior of people selling in different types of markets, discovering how certain events affect their decisions and, even, render crisis management simulations. Besides the financial industry, these techniques also have applications in different areas, including emergency management, healthcare or videogaming.
Ramón Doallo, professor at Universidad de La Coruña, was also awarded this year for his contributions in the area of computer architecture and technology. High-performance computing is essential in a number of critical applications and sectors, from weather forecasting and genome sequencing to the aerospace industry. Combined with Artificial Intelligence techniques, high-performance computing is becoming an essential tool in the mass processing of data in areas as varied as the design of driverless cars, personalized medicine or fraud detection.
Last, but not least, the jury recognized Ricardo Baeza-Yates, professor at the Catalan Institution for Research and Advanced Studies (ICREA) of Universidad Pompeu Fabra. In its citation, the jury underscored "his track record as researcher and entrepreneur, his efforts in the transfer of knowledge, the creation of jobs, the opening of new markets and the excellence in computer science."
The ceremony served to warn about the need to tackle the new challenges posed by the level at which machine technologies are advancing, prepare society for the changes that the arrival of AI technologies to the job market will trigger, and turn ethical values into core components of all machine-related developments.