BBVA Foundation hosts Frontiers of Knowledge Awards ceremony in Bilbao
This year, the BBVA Foundation Frontiers of Knowledge Awards ceremony underscored the need for an increased commitment to sustainability across the globe. "Climate change, the biodiversity crisis and inequality are issues whose future consequences may be much more serious if we fail to act now," said the President of BBVA Foundation Carlos Torres Vila during his address. The awardees gathered to attend a gala that was held for the first time this year in the city of Bilbao.
"Humanity has never had so much responsibility laid on its shoulders as it has at this moment; the steps we take today could transform our planet for all time and determine the lives of future generations," said the BBVA Foundation President during the opening speech of the Frontiers of Knowledge Awards. For Carlos Torres Vila, these awards "have served to strengthen our conviction that organizations like BBVA have the duty to make the fight for sustainability a badge of our identity."
The awards are structured in line with this premise, and have become the only family of global awards that place planet-related research, and categories such as Climate change, and Ecology and Biology Conservation at the same level as basic sciences, medicine or economics.
The achievements of laureates and their research efforts, noted Carlos Torres Vila "equip us with powerful conceptual tools and theoretical perspectives and, in essence, make us better people. Their example is an encouragement to act with boldness to address the challenges of this complex and fascinating period of the 21st century." The ceremony was chaired by Carlos Torres Vila and Rosa Menéndez, chairwoman of the Spanish National Research Council (CSIC). The event was also attended by Íñigo Urkullu, President of the Basque Country; Juan Mari Aburto, Mayor of Bilbao; the President of the Provincial Council of Bizkaia Unai Rementeria Maiz; as well as prominent figures of Spain's academic and cultural community, including chairs of the leading scientific societies and many directors of prominent research centers.
Bilbao, the capital of knowledge
This year's award ceremony was the first ever to be held at the Euskalduna Palace, in Bilbao, a city that has been preparing for weeks for the award celebration and which yesterday hosted a concert to honor the awardees.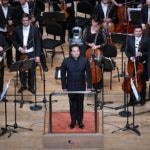 Bilbao is not only the hometown of the BBVA Group, but also the capital of one of the most innovative regions in Spain. From now on, it will also be the new permanent seat of the awards. Torres Vila expressed his gratitude to the Basque authorities for the warm welcome extended by the city to the award recipients. "This city and the Basque Country represent the living roots of the BBVA Group, and share with us a spirit of openness to today's global society."
During the closure speech, Íñigo Urkullu, President of the Regional Government, underscored that "the word 'frontier' is used today as a synonym for division and distrust. These awards, however, use the word 'frontiers' to define a horizon; a space where knowledge and experience are enriched and shared, and an opportunity to advance together in wellbeing and social justice."
The new Frontiers of Knowledge
The BBVA Foundation Frontiers of Knowledge Awards were established in 2008 to recognize and encourage unique contributions, those that significantly broaden the scope of our understanding, spawn new fields of knowledge, or result from the interaction between different disciplinary areas, in different domains of science, the arts and humanities. In their eleventh edition, the awards, come with a €400,000 cash prize, are recognizing the works of twelve researchers and their pivotal contributions to everything from rising sea levels to the discovery of the microbiome: