BBVA Group reduces energy consumption 7% per person in the last three years
Between January 2016 and December 2018, BBVA Group reduced its energy consumption by 7 percent per employee. This savings reaffirms the bank's commitment to sustainability. By December 2018, the Group had hit its targets of having 35 percent of the energy it consumes coming from renewable sources and reducing its CO2 output by 27 percent compared to 2016. October 21 marks World Energy Savings Day and intends to raise awareness about energy efficiency and the need for responsible and sustainable guidelines governing the consumption of the planet's resources.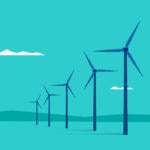 Yet another year, BBVA joins in this celebration, which aims to raise global awareness about the need to preserve earth's increasingly limited natural resources, and mitigate the negative impact of climate change.
To commemorate the occasion, BBVA has released the results of its energy savings efforts: Globally, since 2015, the company has managed to bring down its energy consumption per person by 7%. As for other countries, it stood at 16 percent in the US, 10 percent in Spain, 9 percent in Argentina and 5 percent in Turkey.
In Spain alone, the country's energy savings in 2018 reached 6.2 GWh (a 6.2% cut) in 2018, equivalent to 1,675 tons of CO2 in emissions. Since the bank's decided to start investing in sustainable architecture models more than four years ago, it has implemented over 800 energy saving measures and optimized systems such as lighting or air conditioning, that have allowed to save more than 41 GWh.
Also, with the approval of its Pledge 2025, BBVA committed to offset the direct environmental impact of its activity. BBVA has pledged to source 70 percent of its power consumption from renewable sources by 2025, and 100% by 2030. Also, the Group has committed to curbing its carbon emissions by 68 percent by the end 2025, from its 2015 levels.
In order to achieve this, BBVA is driving energy efficiency measures across global building and branch network. A total of 27 BBVA buildings across its footprint have earned LEED certification, 23 of them in the Gold and Platinum categories, recognizing them as sustainable, efficient and eco-friendly structures.
As part of its commitment to renewables, BBVA signed a PPA (Power Purchase Agreement) with Endesa to have its own wind farm in Spain, whose construction works recently begun. The new 'Primoral' wind farm in Zaragoza is scheduled to be commissioned in late 2019, and start supplying the 108 GWh that the bank consumes every year.
According to its Pledge 2025, BBVA will mobilize €100 billion in sustainable finance from 2018 to 2025, to fund green initiatives, including renewable energy and energy efficiency projects, or green bond issuance projects. As of June 2019, the bank had already mobilized €22 billion.
All energy saving initiatives carried out on the occasion of this day, are in line with the United Nations Sustainable Development Goals. Specifically with SDGs number 7 (access to affordable, clean energy), 12 (ensure sustainable consumption and production patterns) and 13 (take urgent against climate change and its effects).
In addition, every year, on the last Saturday of March, BBVA turns off the lights in all its headquarters for an hour to commemorate Earth Hour, an initiative of the World Wide Fund for Nature (WWF) that seeks to raise public awareness about the need to Take action against climate change.