The Banker magazine, owned by the UK-based Financial Times group, has honored BBVA as Spain's best-performing and fastest-growing bank. In addition, BBVA is Mexico's leading bank by capital adequacy and ranks among the 'Top 5' in Türkiye, Colombia and Peru. To compile its league table of leading banks, The Banker examines 30 indicators using its own in-house method.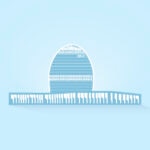 To pick out the 'Top 1000 Banks' among the world's financial institutions, The Banker took into account growth, operational efficiency, return on risk, solvency, profitability, asset quality and leverage. The magazine staff create this leaderboard both globally and country by country. This year, The Banker's ranking especially recognizes the robust performance of the Spanish unit, where BBVA ranked first in metrics such as ROE and ROA, balance sheet strength and financial performance.
"This award is crucial for us because it recognizes that our hard work has led to great results. The accolade is particularly satisfying because profitability and growth are two of the key levers on our roadmap. Topping both rankings in such a tough environment is evidence that we are on the right track," said Peio Belausteguigoitia, BBVA's country manager in Spain.
Beyond Spain, The Banker's special 'Top 1000 Banks' table indicates that the BBVA Group climbed three places in the global ranking, reaching 40th place in 2023. The Latin American units continue to hold strong positions in their respective countries. BBVA is the leading bank in Mexico, the second largest in Peru and the fourth largest in Colombia. In Türkiye, Garanti BBVA is the third largest bank.  The league table published annually by the UK-based magazine has become the most widely used global banking index in the sector by providing an impartial guide to the strength and performance of each bank.
Other awards and accolades
In 2022, The Banker also recognized BBVA in Spain as the country's best bank. This distinction was awarded to the bank on the occasion of the 'Bank of the Year Awards' of the UK magazine. On this occasion, The Banker highlighted BBVA's commitment to offer customers digital tools to make their daily lives easier, and solutions with a positive impact on the sustainability of the planet. Specifically, the editorial staff appreciated the functionality that allows customers to simulate what loan would be necessary to purchase an electric vehicle.
Within these awards, the BBVA Group was honored as Best Global Bank of the Year for its use of technology for a better customer experience, as well as for its commitment to sustainability. This was one of the bank's six strategic priorities that were achieved with the launch of a range of financial solutions.
The global distinction conferred by The Banker in this edition of the awards was extended to BBVA's units in Western Europe, Spain, Peru and Colombia, which were also recognized as the best in their respective regions.