BBVA issues senior unsecured bond with lowest coupon in history
Last Thursday, BBVA launched its first public debt issue of 2017: A 1 billion euro 5-year senior unsecured bond. The bank completed the transaction with the lowest coupon in history (0.625%) for this type of product, with this maturity, for a Spanish issuer.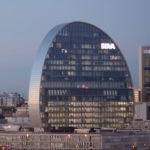 This euro senior unsecured bond is BBVA's first since January 2016, when the bank issued a €1 billion 5-year senior unsecured bond with a price of midswap plus 85 basis points, compared to the 55 basis points of today's transaction. The original price was in the MS+65bp zone, but dropped as investor demand soared and increased past the €2 billion mark. The orderbook remained open just three hours.
BBVA leveraged the positive market context in the first days of the year to execute the transaction as part of its wholesale funding program.
"The issuance has been met with great interest by the market and it has shown, once again, BBVA's strength.  The initial price was revised downward to the lowest price ever achieved for this type of debt issuance, thanks to high demand," said Ignacio Echevarría, BBVA's capital and funding management director.
The orderbook closed with 154 orders from investors from Germany and Austria (32%), France (21%), United Kingdom and Ireland (13%), Spain (13%), Belgium and Luxemburg (7%), Switzerland (4%), Nordic Countries (3%), Italy (2%) and Portugal (2%), among other countries. The range of investors that participated in the issue included fund managers (60%), banks (18%), insurance companies and pension funds (14%), public institutions (5%), companies (2%) and hedge funds (1%).
Citi, Crédit Agricole, UBS and BNP Paribas acted as bookrunners.