Ízaro Amilibia, discipline manager in BBVA Spain's Talent and Culture Department, participated in a round table at an event addressing "Visible and Empowered Women in Business", organized by the Business Network for Diversity and LGBTI Inclusion (known by its Spanish initials, REDI). In the event that coincided with Lesbian Visibility Day, Amilibia stressed the importance of "breaking invisible obstacles" to ensure everyone is visible and embraced by the organization. As part of its commitment to diversity, and specifically to the LGTBI community, BBVA regularly collaborates with REDI.
Lesbian Visibility Day has been commemorated in different parts of the world each April 26th since 2008 to demand equal opportunities for and visibility of the role of lesbians. This cause drew representatives from a number of companies and associations to the headquarters of the Confederation of Employers and Industries of Spain, where they joined in observing the day to take a stand for "Visible and Empowered Women in Business." All the participants agreed that those workplaces that are inclusive and respectful, that value talent regardless of gender identity, expression, or sexual orientation, foster innovation and creativity, in addition to benefiting from improved productivity rates.
Ízaro Amilibia, discipline manager in the Talent and Culture department at BBVA Spain, was a speaker during the second panel of the event. Together with Ana Del Arco, knowledge senior advisor at Hogan Lovells and Secretary of REDI and Marta Fernández Herraiz, founder of LesWorking and co-managing director of REDI, she addressed the visibility and empowerment of lesbian women in Spain. Despite the fact that Spain is on the forefront of LGBTI rights, a large number of Spanish public and private companies lack a dedicated department to address the needs of the LGBTI workforce.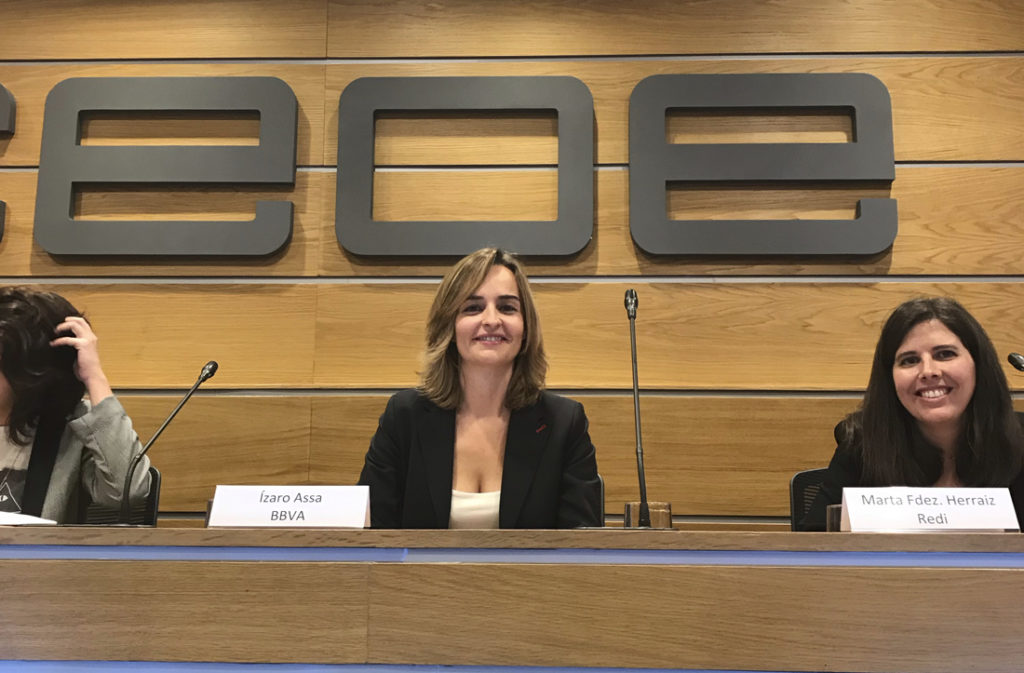 Ízaro Amilibia participates in a panel about the Lesbian Visibility Day
Amilibia shared her personal experience and explained her involvement in BBVA's diversity initiative which is growing and currently being developed to expand its inclusivity. In addition, she wanted to point out that formal education on the topic is needed in order to overcome discrimination. "Training, awareness, and cohesiveness are needed so that all employees become allies in breaking down invisible obstacles and joining together in the powerful message: 'I recognize you; I value you. Just as you do me.' Trusted relationships can only come about when you can be yourself, and in the workplace, this has an impact," she said.
A commitment to diversity
BBVA's commitment to diversity and inclusion has positioned the bank as a leader in equal rights, as attested to by Bloomberg GEI when it included the bank in its prestigious Gender Equality Index 2018. BBVA is also among the 200 companies from around the world to be included in the Gender Equality Global Report & Ranking, produced by Equileap, or as one of the 30 companies in Spain to be make it into Intrama's VariableD2019 report celebrating companies with best practices in diversity and equality.
Other BBVA initiatives, like its project related to inclusive language in drafting job announcements, have been selected by the Spanish Network of the Global Compact as one of the best business practices linked to the UN's Sustainable Development Goal 5. Furthermore, the Group has recently renewed its commitment to Europe's Diversity Charter and the UN's Women's Empowerment Principles.