BBVA selected for 2019 Bloomberg Gender-Equality Index, for second consecutive year
BBVA is one of the 230 companies selected for the 2019 Bloomberg Gender-Equality Index (GEI), one of the world's most relevant indexes on this matter, which distinguishes companies committed to transparency in gender reporting and advancing women's equality.   Garanti Bank, the Group's subsidiary in Turkey, has also been selected for the index.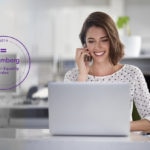 The Bloomberg index calculates scores based on standard reports and on a questionnaire intended to assess their performance in four separate areas: company data and metrics, employment policies, community engagement and products and services. Since its last edition, the index doubled in size: In 2019 it includes 230 firms from 10 sectors headquartered across 36 countries and regions. All the firms included are global leaders in the professional advancement of women through measurement and transparency. Collectively, they employ more than 15 million people, of which 7 million are women.
For second consecutive year, BBVA was selected for the Bloomberg Gender-Equality Index for its pioneering commitment to transparency in gender reporting. "We applaud BBVA and the other 229 firms tracked by the index for their action to measure gender equality through the Bloomberg GEI framework," said Peter T. Grauer, Chairman of Bloomberg. "BBVA's GEI inclusion is a strong indicator to its employees, investors and industry peers alike that it is leading by example to advance ongoing efforts for a truly inclusive workplace."
Garanti Bank, part of the BBVA Group, was selected for the Bloomberg index again. It is the only Turkish company included in the index.
BBVA's commitment to equality
BBVA Global Head of Talent and Culture Carlos Casas, "being selected once again for this index bears witness to BBVA's commitment to diversity. Increasing the diversity and inclusiveness of our organization is one of our priorities."
BBVA's inclusion in the Bloomberg Index is yet another example of the Group's commitment to diversity and equality. The company understands that workforce diversity helps companies provide better responses to customers with different points of view. One of the policies yielding the best results in gender equality maters is the application of the Rooney Rule in selection processes, which requires at least 50 percent of the pool of candidates to fill vacancies within the organization to be made up by women. After the implementation of this rule, almost 40 percent of the key vacancies within the organization have been filled with women.
As of September 2018, women occupied 48 percent of the positions that entail team management and 58 percent of business and profit generation positions. Also, after the approval of the bank's new organizational structure on December 20, 2018, the number of women in the first executive line increased from one to four, representing 17 percent of the total (compared to 5 percent before the change.) Women also account for 54 percent of the Group's global workforce. Also, in 2018 BBVA progressed towards achieving its 2020 target of having at least 30 percent of female board directors. Today out of the board's 15 seats, 4 are held by women (27 percent).
BBVA, through its Microfinance Foundation, offers special support to women entrepreneurs to foster their development and promote their economic independence. Currently, the foundation supports over one million women in Latin America, offering them access to financial products and services tailored to fit their needs, and to financial education, technical training and networking services.
All these advances have helped propel BBVA to the forefront of diversity. Bloomberg GEI's recognition adds to the bank's inclusion in 'Gender Equality Global Report & Ranking' by Equileap or in Informe VariableD2019 by Intrama, which lists Spain's top 30 companies in terms of diversity and equality practices.