BBVA has been in Las Vegas this week, taking part in one of the world's biggest fintech events, Money 20/20. The scale of the conference is huge – more than 11,000 delegates, including 1,700 CEOs and Presidents, from 4,500 companies and more than 85 countries around the world. BBVA's CEO, Carlos Torres Vila and its Head of Customer and Client Solutions, Derek White, both attended, alongside several other senior leaders.
For the bank, the purpose of these trips is multiple. In the case of BBVA's CEO, it was a chance to meet with a number of startups that are bringing new solutions to the industry and who are hoping to change the way customers and clients bank in the future.
Carlos Torres Vila describes his experience of the trip in the Retina section of El País this week, where he also notes how BBVA's focus is on transforming itself to improve the customer experience, and to build trust by using people's data in a way that adds value for them.
The eight or so startups he met in Las Vegas are all aiming to do this, through a variety of technologies.
In Retina, Carlos Torres Vila said: "The thing I am seeing more and more of (although nothing is forever in the world of innovation) it is that now, more than ever, the key lies in the convergence between different technologies and capabilities allowing the customer to move seamlessly across services with the focus on making the customer's life easier.
"Access to a massive amount of data – of course with the consent of the client – with the use of new technologies (biometrics, blockchain or the cloud) allows the creation of experiences and incredible solutions for the customer while at the same time blurring the borders between different industries."
So what were the trends at this year's event
Undoubtedly Artificial Intelligence was a core focus. Last year, AI specialists Feedzai held an AI Deep Dive event that attracted two hundred industry people to it. This year the same event attracted several thousand, to the point where there were queues to get in, such is the attraction of machine learning.
That aside, the next big focus was on security and fraud prevention, and how technologies like biometrics can find solutions to this issue.
Both Carlos Torres Vila and Derek White spent time with startups looking at ways to make passwords a thing of the past and other businesses seeking stronger ways to protect customers and their data.
Another area seeing lots of developments is around voice banking – an area where the development of speech recognition technology like Amazon's Alexa and Google's Google Home has the potential to disrupt the sector.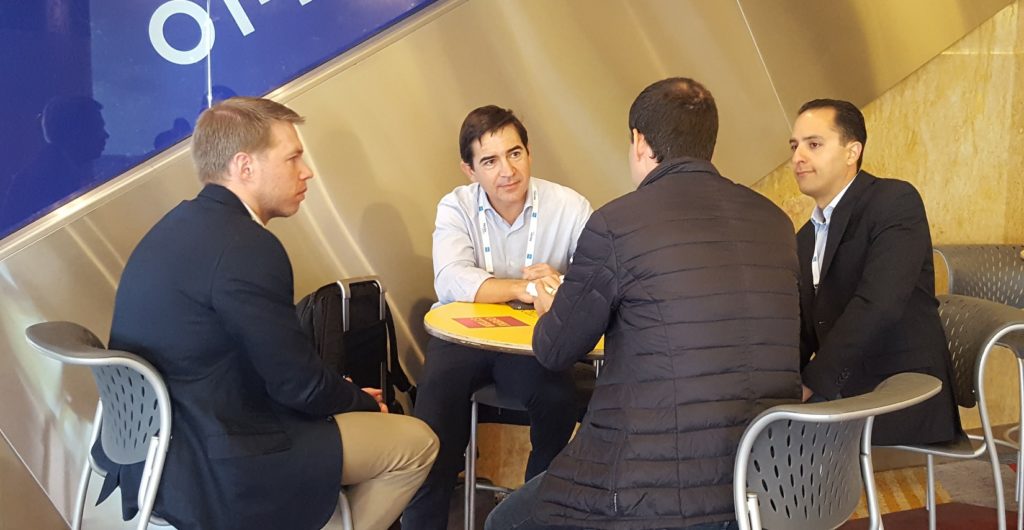 Carlos Torres Vila, BBVA's CEO, spent time with startups during the event in Las Vegas.
White said: "As we look to enhance the services we offer to customers and clients, one thing we always need to do is offer these services where the customer is. Sometimes that's in a branch, sometimes it's via a laptop or increasingly via a mobile device. But when we look at the future, it's clear that voice activated banking is going to play an increasing part. Customers value the ability to have conversations with their bank, to ask questions in real life language and get answers and actions that best suit them.
"We have seen this work well with our Mia chatbot service in Turkey, and from what we have seen at Las Vegas this year, more and more companies are working on trying to catch us up in this area."
Also taking part this year was BBVA's General Manager of New Digital Businesses, Teppo Paavola. He took part in a panel session called Banking as a Service, aimed at discussing how open banking will develop over the coming years.
Paavola outlined how the advent of open API banking, as BBVA has already done, would lead to greater choice for consumers as third parties were able to plug into their data – with their consent – and offer different products and services.
As well as themes like payment services, cross border transaction services, and identity, one other area that was interesting to see at this year's event were stalls set up specifically by both the UK and US banking regulators, seeking out conversations and collaborations with the startups looking to impact this industry going forward. Regulation, as BBVA has said on numerous occasions, is a critical element to banking services – protecting consumers, maintaining the integrity of the sector and of course helping foster new businesses.
For consumers and clients, it should mean the ideas being built at events like this will make it onto the market faster, while for big banks, it should mean these high-growth companies are able to work more effectively with them within the parameters of the regulated environment.