BBVA Open Talent 2016 to announce its European winners at Next Money London
BBVA Open Talent 2016 landed today in the British capital to announce the winners of its European final, in a special event that will take place tomorrow Wednesday as part of Next Money London, the world's leading fintech conversation.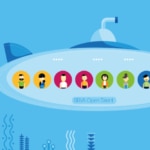 Once again, British, Germans, Dutch, Turkish, Spanish and event Latvian entrepreneurs will present their projects before a jury of experts that will select the two most promising financial service startups. BBVA Open Talent has established itself as the leading competition among startups, after eight editions bringing the ideas and talent of entrepreneurs closer to the world of financial services, with the purpose of developing better products for the customer. In this respect, it acts as catalyst and advisor to help entrepreneurs steer their business models towards success.
This year, Next Money London will be welcoming Derek White, BBVA' Head of Customer Solutions , who, besides acting as member of the Open Talent jury, will take part in the Fireside chat segment, an informal chat with Joy MacKnight, editor at The Banker, to discuss innovation in financial services.  Likewise, Marco Bressan, Chief Data Officer, will take part in the event with a presentation that will explain the importance of data as a source for creating new products and services.
A total of 1,200 startups from 77 countries have taken part in this year's edition of Open Talent, of which, 56 companies from 17 countries have made it to this last stage of the competition. The first final took place last week in New York. Cambridge Blockchain and Precognitive - two startups specializing in, respectively, identity authentication and fraud prevention - took the top spots.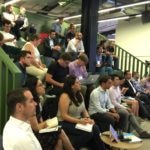 Coaching sessions by BBVA to help entrepreneurs to prepare their pitch for tomorrow.
The Latin American finalists will compete on September 19th and 20th in Mexico. BBVA Bancomer will host the first exchange session to be held on the 33rd floor of its new building, which houses its Innovation Center. The finalists from Colombia, Mexico, Peru and Brazil will defend their projects at Finnosummit Mexico, with the participation of Hugo Nájera, BBVA's Head of Business Development in Mexico.
The final in Mexico will close the BBVA Open Talent contest. The two winners from each region will receive a €30,000 prize each and will take part, along with PayKey (special Wired Money Award) and Musoni (Financial Inclusion Award), in a two-week (non-consecutive) immersion program with BBVA executives in Madrid and Mexico City.