BBVA received approval from the Chilean Financial Market Commission (CMF) to open a representative office in the country's capital, Santiago de Chile. It will focus on developing and promoting the investment banking business, under the management of BBVA Corporate & Investment Banking (BBVA CIB).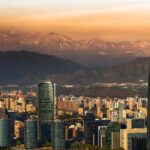 BBVA CIB, the bank's wholesale banking division, is committed to accompanying its clients in the different locations where they have a presence. The bank has therefore decided to open a representative office in Chile to reinforce its already strong value proposition for Latin America. Chile is an attractive market, with an economy that has one of the greatest potential for long-term growth in the region, and a vigorous business sector.
The new representative office will be led by Felipe Serani Dagorret, who has over 15 years of experience in the local corporate and investment banking industry. Throughout his career, Serani has held a variety of different roles at major banks and institutions in Chile, including BBVA Chile, HSBC Chile and Scotiabank Chile. He has carried out a wide range of transactions with several of the country's leading companies.
BBVA focuses on developing and promoting BBVA CIB's products and capabilities in the places where the Group operates. The bank's goal is to partner with both large multinationals and local large corporations in the countries where the bank and its clients have operations. In Chile, BBVA also aims to work alongside public companies and other domestic and international institutional clients.
To this end, BBVA will offer investment banking products, such as corporate finance (bilateral and syndicated loans), project finance and M&A; products and services for international financial markets, such as international bond issues and hedging instruments (derivatives); and transaction banking products and services like foreign trade and treasury management - mainly in dollars, but in Chilean pesos as well in the near future, thanks to new regulation of this currency.
BBVA will also make its expertise available to its Chilean clients, providing advice and financing solutions that support them in the transition toward sustainable business models. This is a business segment where BBVA is already playing a key role in the markets where it has a presence.