The 'BBVA Latin America Conference', held on May 2 and 3 in New York, is a yearly event hosted by BBVA that brings together public and private Latin American debt issuers and North American investors. In this year's edition of the conference —the eighth— BBVA CEO Carlos Torres Vila, and BBVA Global head of Customer Solutions Derek White were some of the prominent figures who took the floor to share their insights into pivotal issues such as investments in Latin America, sustainable finance and banking innovation.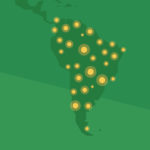 The two-day conference gathered about 250 North American investors and some 50 public and private debt issuers from Latin America. True to its original purpose of promoting investment in Latin America, the conference allowed attendees to learn about the latest trends in the financial world, identify investment opportunities in Latin America and devise new ways of generating synergies.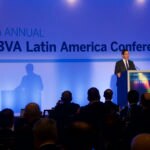 This year, BBVA's Chief Executive Officer, Carlos Torres Vila, delivered the opening speech. During his address he underscored BBVA's role in Latin America, where the company has established itself as a key player, as evidenced by the two top accolades with which Global Finance magazine has recognized its performance: 'Best Bank for New Financial Technology' and 'Best Investment Bank in Latin America'. In addition, the CEO covered other topical issues, such as the digital transformation that the bank has been implementing for years and sustainable finance. Examples of BBVA's pioneering work in both fields are the first green corporate loan signed with Iberdrola in Mexico, and the world's first corporate loan through blockchain technology in partnership with Indra.
BBVA knows how to combine its global product capabilities with in-depth knowledge of local markets in order to offer a product adapted to each corporate client."
Derek White, BBVA's Global Head of Customer Solutions, also took part in the conference. White explained how the bank is implementing the 'Agile' methodology to transform its wholesale banking processes and services. He placed particular emphasis on the DIY (Do It Yourself) approach, which seeks to digitize all services to empower customers. He also noted the progress made 'onboarding' process for wholesale clients, intended to provide them with easier access to BBVA services.
During the conference, other topics such as fiscal policies and regulation, the outlook of the issuance infrastructure sector, or the challenges and opportunities in debt trading in Latin America, the potential impact of the upcoming elections in different Latin American countries on the debt market, monetary policies and local regulations, were also discussed.
Concurrently with the presentations, a total of 400 one-on-one private meetings were held between the debt issuers and the North American investors attending the event in New York.