The new year kicked-off with a deluge of corporate issuances. Last week Europe's bond market had its biggest week ever, with sales of new bonds totaling over €90 billion. Financial institutions accounted for approximately half of the total (€43 billion). BBVA issued two bonds that were warmly welcomed by investors.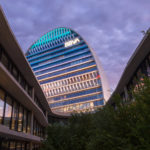 Although the market was expecting a wave of debt issues in January, last week's levels of activity surprised everyone. This record for the European bond evidences the strong start of the year in terms of investor appetite, with unprecedented trading volumes. "We managed to leverage this record-setting week in Europe's bond market to attract bids worth a combined €7 billion for our two issuances, with about 500 orders in total," underscored members of BBVA's wholesale financing team. The highest peak was recorded on Wednesday, with the highest combined volume ever in a single day (€33 billion), with issues by companies, banks and other issuers.
On Tuesday, January 7th, BBVA announced the first wholesale deal by a Spanish bank. The bank successfully placed a €1.25 billion, 7-year, non-preferred senior bond which was two-times oversubscribed and drew orders from over 200 investors. High demand allowed BBVA to set the coupon at 0.50 percent, an all time-low for a bond by a Spanish bank for this kind of issuance, with this maturity. It also set a new record for BBVA by achieving the narrowest spread for a 7-year issuance.
Three days later, BBVA issued a €1 billion 10-year Tier 2 subordinate bond, with demand exceeding the opening offer by four times. The issue was the most oversubscribed bond of the week (excluding AT1 instruments) and became the lowest coupon (1 percent) paid by a Spanish financial institution for a T2 public issuance since Basel III came into force. BBVA took advantage of the bullish tone of the market and the high demand to build up its Tier 2 ratio.