BBVA simplifies the management of business' expenses made with commercial cards
BBVA has developed Global Commercial Cards, a solution which allows companies to have greater control of employees' use of commercial cards simplifying the processes of expense submission and approval.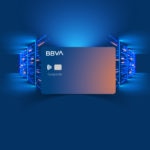 The new solution, globally developed and available in eight countries, is aimed for corporate clients to help simplify and optimize corporate expenses paid using BBVA commercial cards.
"With Global Commercial Cards, BBVA has managed to bridge the gap between two worlds: commercial cards and expense management tools. To achieve it, it has used technology and data enabling companies to manage their employees' expenses in a much more agile and simple way, while keeping control and end to end traceability throughout the whole process" says Sergio Ortega, head of global commercial cards solution at BBVA Enterprise Clients.
The new solution tailors to the needs of all types of companies, regardless of their size —whether global, regional or local—, and expedites the workload of all stakeholders involved in the expense management process, from financial to human resources through purchasing and business trips areas providing quick and easy access to all the relevant information.
The solution is in charge of centralizing all the expenses and automatically sending them to the expense management tool or ERP (enterprise resource planning system) chosen by the company.
Global Commercial Cards is integrated with market's leading expense management tools such as SAP Concur, Captio by Emburse, Expensify, Certify by Emburse or Visa IntelliLink Spend Management, with which the activation of the service is almost immediate.
The solution is available for commercial cards issued in Spain, Portugal, Turkey, Mexico, Argentina, Colombia, Peru and Uruguay; and all of them can be used worldwide.
Paradigm shift
"In the current context, strongly influenced by the coronavirus crisis, the way of managing corporate expenses is evolving and there is an increasing demand for digital processes which enable homogeneous global corporate expenses management. The launch of Global Commercial Cards allows BBVA to meet these needs and take a further step in its commitment to offering innovative solutions which put technology at the service of companies" explains Ortega.
Thanks to the new solution, the usage of BBVA commercial cards will not only benefit employees, who will have a secure and universally accepted payment solution which circumvents the use of cash or their consumer card. It will also be a great advantage for companies, which will be able to more efficiently control how much, when and on what the employee spends their money, making the management of these payments much easier - traditionally associated with tedious and poorly optimized processes.