Sixteen leaders from 13 Ibero-American countries meet in Madrid to participate in the first edition of the Ibero-American Public Leadership Program , organized by the Carolina Foundation, CAF Development Bank of Latin America; and BBVA.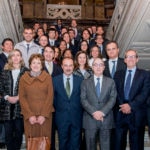 These leaders hold management positions in their countries, where they have executive roles in government agencies (Deputy Ministers, Secretaries of State, Deputy Secretaries and General Managers) as well as in legislative and judicial powers. This week they will have the opportunity to visit the senior cadre in Spain (politicians, executives and academics), as well as attend master classes. Thus, the program boasts an institutional and academic format.
The title of this program is Transparency and open government: the latest administrative trends, and it is designed to enrich Ibero-American leaders by sharing experiences and best practice from the different countries. The program aims to contribute to knowledge in government systems, improve the quality and effectiveness of public policies and in general, support institutional strengthening in Ibero-America. It will focus on the latest senior management trends (transparency, open data, good governance, accountability and decentralization) and on the skills high-ranking government officials need to master.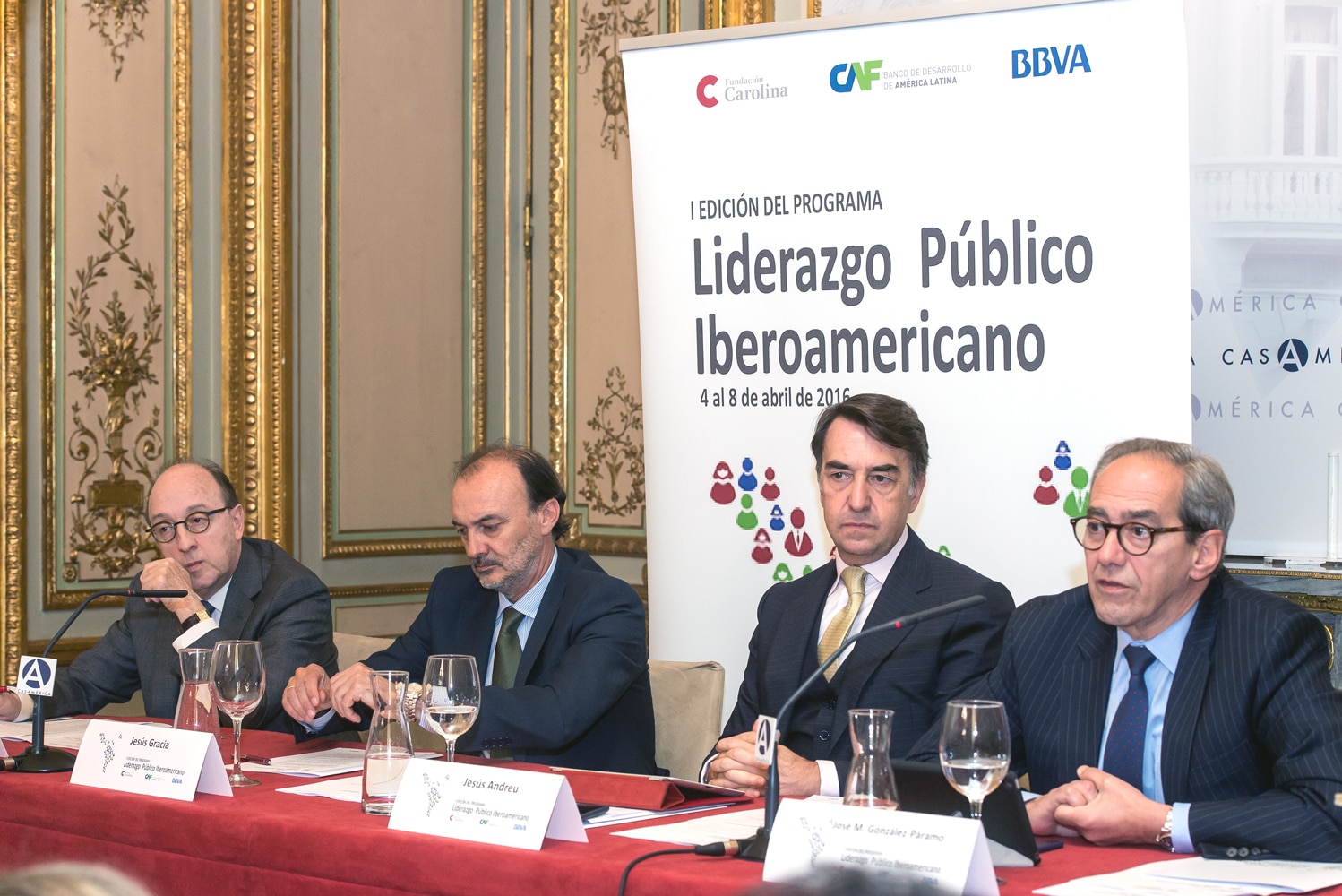 From left to right: Guillermo Fernández de Soto, CAF European Manager; Jesús Gracia, Secretary of State for International Cooperation and for Ibero-America; Jesús Andreu, Fundación Carolina General Director; and José Manuel González-Páramo, BBVA Executive Director - CAF Development Bank of Latin America
BBVA Executive Director José Manuel Gonzalez-Páramo reviewed the pillars of BBVA's strategy for Latin America over the past two decades at the program's launch: first, having reached agreements with top-ranking local partners as an entrance point in these countries; second, the diversification and leadership in important markets like Mexico, Chile, Peru and Colombia; also, the importance of a "conservative and prudent strategy, which should be the essence of the banking business". Finally, he recalled that belonging to a group means sharing a common culture and completing the transformation process of banks acquired within the same business model.
José Manuel González-Páramo also stressed the commitment BBVA has had in Latin America over time. "At BBVA we are optimistic" about the future of this group of countries. "Despite all that has occurred, like changes in oil prices and raw materials, we expect that the year's growth will not be below 2%." In his perspective, the region is at a turning point thanks to the boost from the most developed economies in Latin America, investment in infrastructure in Andean countries and the resolution of political uncertainty in some countries.
He also referred to BBVA's financial inclusion strategy. The institution supports the region's economic and social development through various corporate responsibility initiatives, such as the work of the Microfinance Foundation. This foundation has helped change the lives of more than 6.4 million people and has granted more than $6.6 billion to micro-entrepreneurs.
José Manuel González-Páramo: Despite all that has occurred, like changes in oil prices and raw materials, we expect that the year's growth will not be below 2%
BBVA's Executive Director recalled that the digital transformation of banks "is fundamental for financial inclusion". This digital transformation fomented by the use of mobile phones, allows people with less resources to have greater access to financial services. Currently, 20% of BBVA's clientele in Latin America belongs to the financial inclusion segment.
**Family photo of the first edition of the Ibero-American Public Leadership Program. In the first row, BBVA Executive Director, José Manuel González-Paramo (second from right) at the opening of the program, along with the other participants
BBVA Executive Director, José Manuel González-Páramo at the opening of the Ibero-American Public Leadership Program