BBVA, sustainability coordinator of the new revolving credit facility for EnBW in Germany
BBVA, acting as sole sustainability coordinator, has advised the German energy company EnBW to incorporate environmental and  social criteria into its core bank financing. This characteristic underscores the company's sustainable commitment. The financing agreement turns EnBW into one of the first corporations in the world to include sustainability across its entire financing spectrum. EnBW has issued three hybrid bonds and one green bond since 2018; BBVA acted as active bookrunner in the green bond and in one of the hybrids.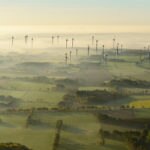 The new revolving credit facility, which replaces the existing facility, is for a total of EUR 1.5Bn and signed for an initial term of five years with two possible one-year extensions that will allow to push back its maturity date. A total of 18 banks have participated in the transaction, following a successful syndication process that was widely oversubscribed. BBVA, due to its global vision and strategic approach to sustainability, has been chosen as the sole sustainability coordinator of this first sustainable facility that is being formalized after the COVID-19 crisis. BBVA also acted as global coordinator of the transaction together with BayernLB and Unicredit.
This transaction is in line with the borrower's ambitious and comprehensive approach to sustainability. The margin of the transaction is subject to the variation of three KPIs; on one hand, two environmental indicators: CO2 intensity and the renewable energy share in the generation capacity; and on the other, a social criteria related to the supply reliability of the grid, SAIDI (System Average Interruption Duration Index). An improvement in these indicators will lead to a reduction in the credit margin, while a decline in performance would increase the margin.
The chosen indicators have an impact on the following United Nations Sustainable Development Goals: number 7 (Affordable and Clean Energy), number 9 (Industry, Innovation and Infrastructure), number 11 (Sustainable Cities and Communities) and number 13 (Climate Action).
BBVA's Global Head of Corporate Lending, Jorge González Jacob commented: "We firmly believe that sustainability-linked commitments embedded in financing instruments play a key role in the fight against climate change and in the achievement of the UN Sustainable Development Goals. BBVA actively promotes sustainable finance as one of its main commitments in line with our 2025 Pledge and actively supports its clients in their sustainable transition. We are proud to advise EnBW as one of the main sustainability contributors in Germany and I hope many more will follow."
EnBW CFO and Head of Investor Relations Ingo Peter Voigt said: "This syndicated line of credit is one of EnBW's go-to financial instruments. We're happy to, working with our main relationship banks, have been able for the first time to line the financial costs of the syndicated line of credit to our company's level of compliance with our sustainability commitments. Linking these relevant strategic sustainability indicators to the banking financing margin highlights their importance within EnBW's corporate strategy".
BBVA, a leader in sustainable finance
As a sign of its firm commitment to the fight against climate change, BBVA approved its Pledge 2025 in 2018 through which the bank will mobilize €100 billion from by 2025 in green financing, sustainable infrastructure, social entrepreneurship and financial inclusion. The bank has the capacity, knowledge and experience to provide its clients superior advisory services for sustainable financial solutions and is playing a key role in developing this market.
BBVA has been a pioneer and a key driving force in the sustainable loan business and is currently one of the most active institutions worldwide and the leader in Spain. In 2019, the bank led a total of 18 deals in Europe and the Americas for clients from many different sectors and was one of the leading banks in the sustainable banking market. By the end of May 2020, BBVA had led five additional transactions.
About EnBW
EnBW is one of the largest energy companies in Germany and Europe, and supplies electricity, gas, water and energy-related products and services to around 5.5 million customers with a workforce of 21,000 employees. Sustainability is an essential part of EnBW's corporate strategy since 2013. By 2025, EnBW plans to further expand renewables to reach a 50% share in the generation capacity and to reduce CO2 emissions by 10/20% compared to 2020, whilst ensuring the reliability in the grid area, as a core metric of the service provided.