The 2023 'Reunión Nacional de Consejeros Regionales' (National Meeting of Regional Advisors, or RNCR) brings together over 300 people from the business community across the country to analyze the social and economic challenges Mexico is facing. It also demonstrates the contributions made by BBVA Mexico to propel the development of projects and find solutions that foster growth and well-being in the different regions of the country.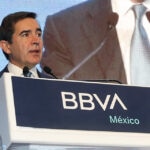 BBVA Chair Carlos Torres Vila gave the opening presentation today at the 2023 RNCR for BBVA Mexico, the most important meeting for the Group in the country where the financial institution's developments, projects and challenges are announced. Torres Vila stressed that the Group maintains its commitment to the country, investing over €43 billion pesos as part of its Plan 2019-2024 for €63 billion pesos, an amount which it expects to surpass.
In his presentation Torres Vila referred to Mexico's contribution to the Group's record-breaking results in 2022, a trend that continued into the first quarter of 2023 when BBVA obtained a net attributable profit of €1.85 billion - 39 percent more than the same period the previous year, also mainly driven by Mexico and also Spain.
"We are convinced that Mexico is a great country with enormous potential and the capacity to take advantage of the opportunities that arise from the new global order and rising regionalization, leveraging key trends like innovation and sustainability. For this reason, we remain firmly committed to the country," he said.
In this regard, Torres Vila explained that the bank set a new record last year for investments in Mexico, with over 13 billion pesos (approximately €630 million). "Through 2022, we invested nearly 43 billion pesos and in 2024 we expect to surpass the initial investment of 63 billion pesos- all to provide the best service to our more than 28 million customers in Mexico. And we will continue to contribute to the development of Mexican society in general in order to bring the age of opportunity to everyone," he said.
The BBVA Chair recalled that digitization remains an enormous competitive advantage that has allowed the Group to set new records in customer acquisition in 2022, with 11 million new customers around the world. "Every year we manage to increase this figure. And in Mexico, the numbers are spectacular, with 4.9 million new customers in 2022, and 76 percent through digital channels," he indicated.
Torres Vila explained that this clear commitment to digitization and innovation led BBVA to create the unit BBVA Spark in 2022 in order to serve young companies which are defining the future. Spark is already present  in Mexico. "We see great potential in Mexico due to its talent, their willingness to become entrepreneurs, the size of its market and its proximity to the U.S., all of which make Mexico a leading destination for innovation in Latin America, along with Brazil," he maintained.
The BBVA Chair also spoke of the decarbonization of the economy, "a job for everyone", which is set to become the greatest disruption in history and will not only require colossal investments, but also great urgency to carry it out. He recalled that since 2018, BBVA has already channeled €150 billion into sustainable finance - half of its new €300 billion target through 2025. "Mexico has immense potential and it could also be a clear winner in this transition toward a decarbonized economy," he said.
In this regard, Torres Vila alluded to a series of factors that are reconfiguring global value chains and will turn Mexico into a natural candidate to relocate manufacturing processes or nearshoring. It is a trend "that will accelerate due to the fiscal incentives that the U.S. has designed to promote investment in the fight against climate change, something that favors Mexico especially," he asserted. "Mexican manufacturing is one of the most competitive in the world and nearshoring represents a tailwind, especially for certain industries like industrial real estate, infrastructure for transportation and industry and construction materials. Without a doubt, nearshoring and the private investment it can attract represent a historic opportunity for Mexico, and enormous potential for growth," he stressed.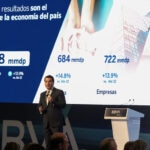 Vice President and Country Manager of BBVA Mexico Eduardo Osuna Osuna.
Mexico, a country of opportunities
In his presentation at the 2023 RNCR, Vice President and Country Manager of BBVA Mexico Eduardo Osuna Osuna underscored that the potential impact of nearshoring would lead to an additional one percent growth in GDP per year. As a result, there could be a three percent annual increase in private investment, 400,000 new jobs per year, the creation of middle classes and an increase of around 1.2 percent in consumer spending.
According to Osuna, the country's macroeconomic data and the bank's results translate into a country with solid structural benefits that is capable of facing new challenges like nearshoring. "The country could significantly increase its economic growth if it manages to address important bottlenecks that still exist, such as the modification of energy policy, channeling investment to key regions to improve infrastructure, and boosting competitiveness."
For the Country Manager of BBVA Mexico, the biggest challenge the country has is boosting national investment, both public and private, in order to generate greater domestic demand; in other words launching local infrastructure projects, promoting public-private partnerships in strategic sectors, combating informality, focusing on the transisthmian project to incentivize investment and promoting education. Currently 88 percent corresponds to national investment, 13 percent is public and 75 percent is private. Foreign direct investment represents 12 percent.
Osuna indicated that the country is experiencing economic momentum that is reflected in the bank's activity in the first four months of 2023. 747,000 new credit cards were issued between January and April and revenue was more than 204 billion pesos. Furthermore, 59 billion pesos were granted in consumer loans and nine billion pesos in automotive loans. Lines of credit totaling 395 billion pesos were opened for the business segment and 20 billion pesos were granted to SMEs in loans.
In this context, the executive noted that BBVA Mexico continues working on projects to strengthen SMEs. Through 'Banco de Barrio' (Neighborhood Bank), from July 2020 to date, 510,000 paychecks were set up for direct deposit and more than 140,000 point of sale terminals were delivered. With this initiative, there are currently over 721,000 clients in this segment, and the bank expects to reach one million SMEs in 2024.
The financial institution is the clear digital leader. At the end of April 2023, BBVA Mexico had 21.4 million new digital customers - up 23 percent from the same period last year. Approximately 222,000 transactions take place every hour on the BBVA MX app, and 18,000 transactions on the bbva.mx portal. In addition, 74.2 percent of all of the bank's sales take place on digital channels. And through BBVA Spark, a new business model has been created that is close to the entrepreneur ecosystem. This unit has 320 clients in Mexico with over 1.54 billion pesos in its portfolio.
BBVA Mexico is on the cutting-edge of sustainability in order to meet its goal of supporting customers in the transition toward a sustainable future. From January to April 2023 alone, 46.38 billion pesos were channeled to climate change projects and 10.81 billion pesos in inclusive growth initiatives.
Commitment to society is another pillar of the financial institution. Through the Foundation, BBVA Mexico supports children and youth from secondary school to college through a scholarship program called 'Chavos que inspiran', which has 47,000 active scholarship recipients and 652 youth with a disability. Furthermore, through 'Aliados por la salud', the bank, in conjunction with Salud Digna, will provide 500,000 free pap smears and cervical cancer tests in order to take care of women's health and help eradicate this disease.