BBVA achieves 150 billion euros in sustainable business, half of its 2025 goal
BBVA has channeled 150 billion euros in sustainable business from 2018 to March 2023, half of the €300 billion target set for the 2018-2025 period. Nearly 14 billion euros was mobilized in the year's first quarter, an increase of almost 20 percent compared to the same period in 2022. "Quarter after quarter we are making good progress towards achieving our sustainable business goal for 2025," said Javier Rodríguez Soler, BBVA's Global Head of Sustainability, commenting on these results.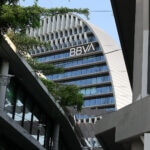 "These quarterly growth rates are marked by the consolidation and extension of sustainable business to all segments. In this regard, operations with medium-sized companies are becoming increasingly important, especially in Spain, Mexico and Turkey," said Javier Rodríguez Soler.
"In the case of large companies, we have specific action and transition plans for each client. We have set targets and decarbonization plans for six emission-intensive sectors. Incorporating sustainability into our business, in all sectors and throughout the economic structure, is the best way to make it possible at a global level," he concluded.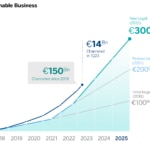 79 percent of the 150 billion euros mobilized between 2018 and March 2023 has been earmarked to favor action against climate change, while 21 percent has been directed at promoting inclusive growth. Both are BBVA's two strategic focuses to guide and assist its customers in their transition plans towards a more sustainable world.
By product, 73 percent of the 150 billion euros was mainly corporate finance, transactional banking activity and individual financing; 17 percent to brokered third-party bonds where BBVA acts as bookrunner; five percent to project finance; and five percent to investment products managed or marketed by BBVA, among others.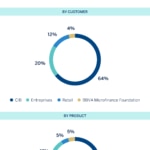 Quarterly data by activity
The retail business performed well in the first quarter of 2023, with funding channeled to sustainable mobility - such as the acquisition of hybrid and electric vehicles - standing out. This area grew 26 percent compared to the same quarter last year. Turkey, Mexico and Peru more than doubled compared to the same period in 2022.
In commercial banking, financing related to energy efficient buildings stands out, such as developer loans or energy efficiency measures where the amount channeled has risen 50 percent over the same quarter last year and for which Spain was fundamental, growing 57 percent in this line.
In corporate banking, momentum in the market for brokered bonds in which BBVA acts as bookrunner stands out. In this quarter, mobilization related to the brokerage of these bonds saw an increase of 102 percent over the same quarter last year, primarily driven by greater volume of green bonds, which stands out with an increase of 103 percent compared to the same quarter last year.
Inclusive growth
In addition, in the first quarter of 2023 BBVA allocated €3.3 billion to financing inclusive growth initiatives so that they reach all of society. The bank put the focus on serving vulnerable customers, or those who require distinctive service. Among other measures, it is worth underscoring that service for people over the age of 65 has been reinforced in Spain at branches and over the phone, offering preferential service. The mobile app and network of ATMs have also been adapted for this group. BBVA also reached an agreement with the Spanish Postal Service to expand banking services to rural areas.
Another relevant aspect this quarter is the mobilization of funding for entrepreneurship, which rose 15 percent from the same quarter last year. Turkey more than doubled its allocations to this area compared to the same quarter in 2022.
BBVA is the most sustainable bank in Europe for the third year in a row, according to the 2022 Dow Jones Sustainability Index, the global benchmark index for sustainability. The bank received the second highest score in the banking category globally.