BBVA turns Madrid into the global financial education capital with the Edufin Summit 2019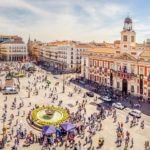 For the third consecutive year, the most relevant and diverse issues related to the world of financial education will be raised for discussion at the international Edufin Summit.
Topics on the agenda this year include: technology as a key driver to improving financial health, the role digital transformation plays in helping people make better financial decisions, and challenges posed by the digital revolution to the financial well-being of individuals. As in the past, the Edufin Summit 2019 will feature a multidisciplinary environment that will foster intellectual reflection and stimulate debate among the top experts in the field. 
A defining year
For its first two years, this international event was held in BBVA's regional headquarters first in Mexico City and then in Buenos Aires. In 2019 the Edufin Summit moves to the bank's group headquarters in Madrid. Over the course of two days, during morning and afternoon sessions, representatives from the public sector, the world of business, multilateral organizations, academics, and international research agencies will present data and share success stories in the domain of financial education and skills.
The Center for Education and Financial Capability, the driving force behind this global initiative, aims to promote the importance of financial knowledge and skills in order to improve individual prosperity and well-being. A commitment that José Manuel González Paramo, BBVA Head of Global Economics & Public Affairs, wanted to reiterate at the close of the 2018 Edufin Summit in Argentina: "Our Mission as a bank is to bring the age of opportunity to everyone, and we are working to provide our customers with the best banking solutions, helping them make better financial decisions, and positively impact their lives. Financial education affects everyone, all businesses … it is also everyone's responsibility."
Anyone interested in attending the 2019 BBVA Edufin Summit can register at this link.