BBVA's expansion to the U.S. came after it found success in South America and Mexico. The U.S. was an attractive market from a demographics standpoint, with a growing population, a solid economy - which also happened to be the world's largest - and a positive banking environment. Also, given the Group's leadership in Latin America, the U.S. with its large and growing Hispanic population was a natural choice.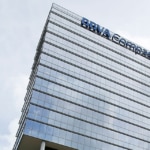 Entering the US Market (2004)
Although BBVA had established a New York Branch in 1988, and had a money remittances operation in the U.S./Mexico corridor since 1994, in September 2004, BBVA garnered its first official toehold in the United States, acquiring Valley Bank and its four branches in California. With the acquisition, BBVA had the foundation to expand its Hispanic strategy to the U.S. in areas with a high Hispanic population, and the opportunity to understand the U.S. banking market from the inside.
KEY DATES
1988
New York Branch Established
1994
Bancomer Transfer Services established
September 2004
Valley Bank Acquired
---
A Texas Leader (2005-2007)
In 2005, BBVA quickly moved on to its next acquisition. Texas border bank Laredo National and its 32 branches gave the bank a stronger foothold among the Hispanic market in a growing region and with a customer base that was generally familiar with its successful Mexican franchise, BBVA Bancomer.
Just a year and a half later, BBVA's U.S. operations were growing once again, this time shifting its focus to general market banking. In late 2006, the bank announced that it had acquired both Texas State Bank, an 80 branch bank headquartered in McAllen, Texas, and State National Bank, a bank with 44 branches from Fort Worth, Texas. With the two additions, BBVA became a leader in the Lone Star State, and with State National Bank, it also gained operations in New Mexico.
With the acquisition of three banks under its belt, BBVA evolved its U.S. strategy from one primarily focused on the Hispanic population, to one with a general market approach.
KEY DATES
April 2005
Laredo National Bank Acquired
December 2006
Texas State Bank Acquired
January 2007
State National Bank Acquired
---
A Sunbelt Leader (2007 - 2009)
In February 2007, BBVA announced its biggest U.S. acquisition to date, Birmingham, Ala.-based Compass Bank. Compass Bank had a six state footprint and a total of 422 branches, tripling the bank's asset size. It was a significant acquisition for BBVA, as it propelled the bank's general market approach, and the bank's Sunbelt footprint outpaced the national average in demographics and economic growth, as it still does today.
In late 2008, the three Texas banks, dubbed Tri-Star, were integrated into Compass Bank systems, creating a solid Sunbelt presence with six states, total assets of approximately $61.2 billion, 579 branches and more than 12,000 employees.
Making the bank's efforts during this time even more impressive, BBVA introduced its brand, BBVA Compass, in the U.S. at a time when the nation was mired in a deep recession. BBVA weathered the recession without any government assistance as it didn't engage in the subprime lending or other practices that were the hallmark of the financial industry difficulties during that time.
KEY DATES
---
Building Brand (2009 - 2011)
In January 2009, BBVA celebrated the official launch of the BBVA Compass brand in the U.S., having acquired five banks in five years, but it wasn't quite done. That August, BBVA Compass became the first and to-date only U.S. bank with an international parent to be awarded a bank by the FDIC when it purchased Austin, Texas-based Guaranty Bank. The acquisition added a state to the bank's retail footprint, a total of 164 branches in Texas and California and $12.0 billion of assets.
After its slate of acquisitions had been fully integrated, BBVA Compass began to focus in earnest on the transformation of its business model to a customer-centric universal banking model that had proved successful in other BBVA geographies. The crisis, which saw banks losing sight of the customer and their needs, also proved the success of this model.
In 2011, the U.S. team embarked on another ambitious project, its core technology platform transformation, which would make it the first major U.S. bank to boast real-time processing capabilities, allowing for immediate posting of deposits and loan payments and increased transparency that provided customers more timely information about their accounts and greater control over their finances. The platform also improved product time-to-market allowing the bank to quickly adapt to evolving customer preferences. The $362 million project replaced the bank's core technology infrastructure for all of its branches across its seven-state Sunbelt footprint.
KEY DATES
April 2009
First iPhone app released
---
Leading Transformation (2011 - Present)
BBVA Compass now had a solid presence in the U.S. and was moving forward with its ambitious goal of transforming banking in the United States by bringing its universal banking model to its newest franchise.  Throughout the next five years, the bank implemented the model, while building brand, focusing on being an active member of the communities in which it operates, growing organically and advancing toward its goal of being a digital challenger.
In making the move toward its digital transformation ambitions, BBVA acquired lauded neobank Simple, collaborated with notable fintech companies, bolstered its user experience capabilities by acquiring San Francisco-based design studio Spring Studio and opened both the San Francisco office of its New Digital Business unit and the Creation Center in Dallas, Texas where it houses 60 experts in data analytics, software engineering and user experience and design.
The bank's community focus saw a 2014 promise to boost economic development across all the communities in its footprint. BBVA Compass pledged to put $11 billion in lending, investments and services toward supporting low- and moderate-income individuals and neighborhoods. After the first two full years, the bank has surpassed its goals and injected more than $5.3 billion into its communities.
BBVA Compass has also brought its communities more opportunities around arts and culture and entertainment, bringing works from the Museo del Prado that had never been to the U.S. before, and hosting notable events like exclusive client dinners with the world famous Roca Brothers. The bank also became the Official Bank of the NBA.
Today, nearly 15 years after making its first acquisition in the U.S., BBVA Compass has approximately $87.7 billion in assets and operates 657 branches. It ranks among the top 25 largest U.S. commercial banks based on deposit market share and among the largest banks in Alabama (2nd), Texas (4th) and Arizona (5th).
KEY DATES