In an op-ed published in El País, Olga Gouveia, Principal Economist at BBVA Research, recalls the importance of banking services - considered essential services by authorities in many countries - in the current crisis caused by the COVID-19 pandemic. Thus, banks are part of the solution and the recovery will be faster if they remain capable of financing the economy.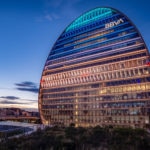 The banking system not only makes it possible to continue making and receiving payments, it also helps families and companies mitigate the income shock and address possible short-term liquidity problems. This is especially relevant in the productive network, as it prevents these temporary difficulties from becoming solvency problems in the mid- and long- term that put the survival of companies and jobs at risk.
According to BBVA Research, financial institutions are facing this crossroads from a position of financial strength, with solvency that has not stopped increasing since the 2008 financial crisis, and reinforced capital and liquidity buffers - designed precisely to face situations of economic decline like the present. Furthermore, support of the adopted measures by regulators, supervisors, central banks and governments in this context should guarantee the capacity to lend both in the short term, and finance the economic recovery in the future.