Cybersecurity tips from Kevin Mitnick: hacker, security consultant and recent Birmingham, Ala. visitor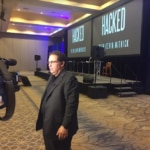 Mitnick visited Birmingham, Ala., last week to give his insights on cybersecurity to BBVA Compass clients. To the surprise of many in the crowd at the Sheraton Birmingham ballroom who witnessed his multiple hacking demonstrations performed live on stage, it doesn't take much time or effort to steal someone's identity if hackers know what they're doing.
A simple name and birth date, a small piece of personal information, or simple social engineering can maneuver a hacker into a person's life, and scary enough, financial information. So what advice does Kevin Mitnick, once the most wanted hacker in the world and one of the FBI's Most Wanted because he hacked into 40 major corporations just for the fun and challenge, have for keeping you secure in an online world?
Anyone who thinks that security products alone offer true security is settling for the illusion of security.

- Kevin Mitnick, The Art of Deception: Controlling the Human Element of Security
Here are just a few tips Kevin Mitnick attendees learned at the event:
Use Multi-Factor Authentication, it's very easy! Mitnick always recommends multiple layers of security. This easy-to-use security feature which many online systems now offer requires users to enter a secondary authentication code (e.g. from a text message to a system recognized phone) as well as your password, so that if hackers get your password it becomes much more difficult for them to break in..
Get alerted. Signing up for credit card transaction alerts helps you stay on top of unusual activity as soon as it happens. Oh and by the way – BBVA Compass has something like that for you.
It's your password, but don't choose it. Gone are the days of [Your Child's Name]123. People are not creative enough and hackers recognize patterns. Plus they use the same password or slight variations everywhere. Mitnick says to use a password manager which creates different randomized passwords for each site you visit and you only have to remember one password.
...People hire me to do the same things I went to prison for, but in a legal and beneficial way.

- Kevin Mitnick, Ghost in the Wires: My Adventures as the World's Most Wanted Hacker
Note - Upcoming BBVA Compass events with Kevin Mitnick will be in the following markets:
Austin
Rio Grande Valley
Houston
Dallas
---
Click here to read more information on fraud prevention, online security and privacy at BBVA Compass Security Center.