December Recap: Creating opportunities for communities and people
In December, BBVA Compass published a series of articles that captured its brand promise of "creating opportunities," honing in on efforts and investments that will positively impact underserved communities throughout the bank's footprint. The bank also positioned itself as an engine of opportunity for people, highlighting its commitment to helping customers digitally and through an array of financial services.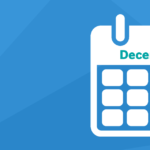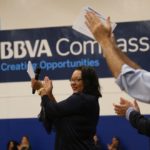 KIPP NEXUS School Leader Lisa McClinton joins BBVA Compass Director of Corporate Responsibility & Reputation Reymundo Ocañas and KIPP Co-Founder Mike Feinberg at the ribbon cutting ceremony for the BBVA Compass Opportunity Campus in Northwest Houston. - BBVA Compass
Workforce Development Center part of The Salvation Army's new Center of Hope: The Salvation Army's new Center of Hope facility houses the Workforce Development Center, a program made possible in part by a $250,000 gift from the BBVA Compass Foundation. Part of the Center's role is to partner with other nonprofits in the community to provide training and education to build a pipeline of qualified employees in Birmingham.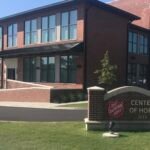 The Salvation Army's new Center of Hope facility in Birmingham, Ala.
Project Blue Elf's impact reaches milestone 20,000 students on its five year anniversary: Project Blue Elf, BBVA Compass Foundation's signature holiday initiative, wrapped up its fifth anniversary in December and reached more than 5,500 students in 30 markets across the bank's footprint. The campaign brought toys, cookies and smiles to kids in 32 different elementary schools, with most students coming from low- to moderate-income backgrounds.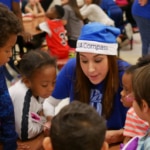 As part of BBVA Compass' fifth annual Project Blue Elf initiative, bank volunteers delivered toys and brought holiday cheer to students at Miller Heights Elementary in Belton, Tex. - BBVA Compass
Creating opportunities for people
MOBILE Act means more access for underserved, unbanked: Initially conceived in BBVA Compass' Legal Department, the enactment of the MOBILE Act, which could occur early this year, aims to improve access to mainstream financial services for communities where financial institutions are limited or inaccessible.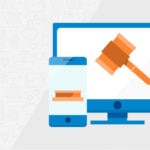 The enactment of the MOBILE Act would allow financial institutions to fully deploy mobile technology that allows digital account openings across all states.
The important role branches play in digital transformation: As a community pillar, BBVA Compass branches leverage the customer experience and personal service, not only to to conduct high-value transactions and solve problems, but also to maximize the banking experience through customers' adoption of digital channels.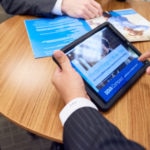 BBVA Compass branches are an increasingly important part of the bank's digital transformation. By also leveraging the role as technology facilitators, branch personnel enhance the customer experience by balancing personal banking with technology. - BBVA Compass
The remittance market in the U.S. – where the money goes: Much of the remittances sent from the U.S. are forwarded funds to Mexico. BBVA Compass featured an article to give people insight into the magnitude of remittances being sent across the border, while spotlighting how BBVA's recently launched mobile app, Tuyyo, can help send funds quickly to Mexico.