We've all been there before. You're in a rush and you have somewhere to be with very little time to get from Point A to Point B. But you also have a check to deposit and you've been holding off on doing it for the longest time.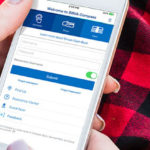 So what do you do in this growing age of digital and mobile banking?
You decide to deposit that check using a trusted and reliable mobile banking app. But five tries later, you're starting to grow frustrated because it's not working and the clock is ticking. Don't you wish there were some tips out there to make sure your mobile deposit transaction goes through quick and easy?
There are. Keep scrolling…
What you can do to enjoy the ease and convenience of a mobile deposit feature on your app:
No peaks and valleys here. Make sure when you're about to take a picture of your check, that it's on a surface big enough to stay flat and steady.
It's easy on the (dark) surface. Placing your check on a dark, contrasting surface will help the app read it better, ensuring an easy process and a bright spot in your day.
A central idea. When you capture the image on your phone – make sure it's at the very center of your screen. It should be front and center and the star of the show.
We endorse this process. On the BBVA Compass app, remember to endorse the check with your signature on the back, write "for deposit only" and write your account number below all of this information, as well as "BBVA Compass" on the last line.
For more information and to view a video of mobile deposit practices, click here.