EU banks' capital leverage and liquidity ratios continue improving
The EBA recently completed its latest monitoring exercise to assess EU Banks' capital, leverage, and liquidity ratios assuming full implementation of the CRD IV-CRR/Basel III framework.  Overall, the results show that, between June and December of 2016, there was an improvement in both CET1 capital and liquidity ratios.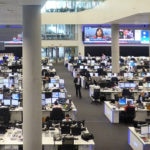 On Tuesday, the EBA (European Banking Authority) released the results of twelfth report of its ongoing monitoring exercise on the European Banking system. Overall, the results show a further improvement of capital, leverage and liquidity ratios in accordance with the Basel III international financial standard and CRD IV and CRR directives.
The EBA assessment has been based data summited by banks from 18 EU member states and Norway. Overall, 164 banks divided into two groups, depending on their Tier 1 capital and size. Group 1 is made up by 45 internationally active institutions with Tier 1 capital in excess of €3 billion. Group 2 consists of 119 banks divided in different subgroups, the first one made up by large banks with Tier 1 capital ranging between €1.5 and €3 billion, and the last subgroup consisting of institutions with Tier 1 capital under €1.5 billion.
The results obtained, based on data as of the end of December 2016 show an improvement with respect to the results obtained six months before. On December 31, 2016, the average Tier 1 capital ratio of EU Banks stood at 13.4%, up from 12.8% in June of that same year. In both instances, the levels reached were wide above the required minimum.
In average leverage ratio stood at 5% as of the end of December, an increase from June 2016 (4.7%). The minimum requirement is 3%. Finally, 99.2% of EU banks exceed the minimum liquidity requirement (100%).  In December, the average stood at 139.5%.