"Our vision of the world is marked by a sense of urgency, but also by a sense of opportunity. We need to re-imagine the role of banking in society. As banks we have to focus on a mission and creating a positive impact on people's lives." These are the words of BBVA's Global Head of Responsible Business, Antoni Ballabriga, on a panel where he was joined by the European Commission Vice President, Vladis Dombrovskis, during the Sustainable Finance in Nordic-Baltic conference held in Helsinki.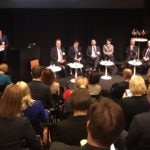 BBVA represented European banking at the conference, which included participation from Nordic and Baltic businesses, policy-makers, and municipal representatives. Antoni Ballabriga who chairs the European Banking Federation's Sustainable Financing Working Group defended the industry's role, "European banks are paving the way to a more sustainable global financial system. We lead the world in sustainable financing. It's a great opportunity for banks. We are making a lot of progress, but we have to think big, act more quickly, and encourage participation from everyone." Antoni Ballabriga stressed.
With regard to BBVA's role in the this initiative, he emphasized that "the Group's strategy in regard to climate change and sustainable finance is based on three pillars: funding (mobilizing €100 billion to stop climate change and achieve the UN's SDGs); management (to align the bank's business activity to updated climate targets); and commitment, driving the financial sector's contribution and engaging with all stakeholders".
Increasingly, corporate sustainability is taking a prominent position on international institutions' agendas. The EU strategy for sustainable financing defines a ten-point plan aimed at boosting private investment in green and sustainable projects, changing the incentives and culture across the investment chain.
"We need to re-imagine the role of banking in society"
The Sustainable Finance in Nordic-Baltic conference intends to give visibility to some of the problems encountered by businesses and institutions today, and more importantly, how to tackle them, because sustainability is becoming more and more important in the financial sector. For example, during the past 10 years, the economic damage caused by extreme weather events increased 86 percent. Banks are not alien to this reality, which reveals what has hardly been a secret: climate change and sustainability are deeply-rooted problems that impact all economic sectors, political factions, and social rungs.
The conference, which came to a close on Friday, November 9, aimed to define and promote specific actions for the Nordic and Baltic financial sectors, municipalities, policy makers, and businesses through the implementation of the EU financing sustainable investments strategy. Governmental institutions thus play a fundamental role, and the European Commission is demonstrating its commitment to ensuring investments are in line with corporate responsibility policies.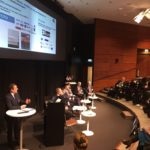 During his participation, Antoni Ballabriga explained, that the principles of responsible banking are the industry's response to better address environmental and social challenges.
The event boasted speakers of the highest caliber, representing the European Investment Bank, Nasdaq Nordic, the Nordic Investment Bank, the Latvian Baltic Energy Efficiency Facility, the Bank of Finland, and Varma Mutual Pension Insurance Company, to name a few.
The conference had two panels of experts: one that focused on sustainable finance, how to think about its impact in the Baltic and Nordic countries, and how to measure it; and another that addressed business models that arise from sustainability, financing vehicles and different public and private sector mechanisms.
Another topic featured how financial institutions plan and measure the impact of sustainable financing; how introducing these measurement processes change investment financing decisions and how further changes require the implementation of the EU's new financial strategy for sustainable development.
The conference was organized by the Finance Latvia Association, Finance Finland, and the European Commission. You can watch a video of the full conference here.