Francisco González: "Turkey will be one of the bank's best investments in the future"
In an interview on Onda Cero radio today, the chairman & CEO of BBVA, Francisco González, said, "Turkey will be one of the bank's best investments in the future." BBVA announced an agreement last week to become a leading shareholder in Garanti, the largest Turkish bank in terms of market capitalization.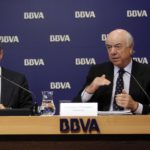 Francisco González explained why the bank bought an additional 14.89% of Garanti from its partner, the Dogus Group, last week. "Turkey is a very important and very young country," he said. This country has a population of over 75 million people and more than half the population is under 30 years of age, a factor that boost consumption and investment. Furthermore, he pointed out that "Garanti is the best bank in Turkey and one of the most technologically advanced banks in the world."
Francisco González made these statements in an interview on the Herrera en la Onda radio program on Onda Cero, from the BBVA Campus, the new corporate headquarters the Group is building in Madrid.
The BBVA chairman believes Ciudad BBVA symbolizes the bank's transformation into a "digital bank". This digitization process aims, according to Francisco González, to provide "greater accessibility"; in other words, enabling customers to access the bank at any time, from anywhere and through any channel – the branch office, a tablet, a smartphone- and receive "a response to their needs in real time". In short, "that is the digital bank we are building, one that is much more transparent, more agile, with immediate answers, all of which transfers power from the bank to the consumer."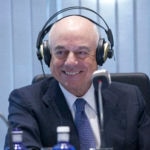 When asked about other current issues, such as lending reaching the real economy, the chairman & CEO of BBVA said, "There is no credit problem, but rather a demand problem." Regarding the political future of Spain, Francisco González underlined that "finances must be kept in order," given that "budget stability is a requirement to remain in Europe."
The chairman and CEO of BBVA said, "Spain needs a stable government for the next term" in order to complete the reform process that has turned Spain into a role model, with regards to what it has done in the last two and half years. "Spain and Germany will be the growth drivers" in Europe, said Francisco González.
With respect to corruption, Francisco González said that "unacceptable mistakes were made" and he argued that it is necessary to rejuvenate the institutions that have made a decisive contribution to the country in the last few decades.