For the fifth time in the past six years, Garanti BBVA was named Turkey's Best Investment Bank by Global Finance, one of the world's leading financial magazines. The award confirms the bank's expertise and reliability in international energy projects and major investments.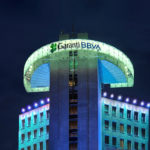 As a pioneer in investment banking and project finance in Turkey since 2010, Garanti BBVA creates value for customers and enhances their financial strength with tailored solutions in project and procurement finance and other special fields.
Sharing her views on the award, Garanti BBVA Deputy General Manager Ebru Dildar Edin said, "Garanti BBVA plays an active role in financing major projects in Turkey. We prioritize projects that contribute to the sustainable growth of the local economy and support our customers' financial health so that they achieve high creditworthiness on the global scene."
The executive also underscored the bank's leading position in creating jobs, reducing imports and financing environmentally friendly investments in infrastructure, energy, manufacturing plant and asset purchases. In project finance, the bank has lent more than $6 billion for renewable energy projects alone, mostly wind farms. "We are very pleased to receive this recognition once again by a leading publication, Global Finance magazine," said Dildal Edin.