Garanti BBVA earned three Stevie awards, the prestigious prize conferred to the most successful enterprises and executives from the international business community.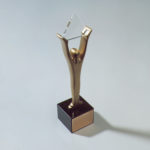 In the category of websites and mobile apps, Garanti BBVA Mobil was awarded gold in the banking and financial services subcategory, and bronze in best user experience. Also, in the marketing category, Garanti BBVA's smart transaction service was recognized in the best launch of new products and services subcategory.
 Işıl Akdemir Evlioğlu, Executive Vice President of Garanti BBVA stated that the objective of Garanti BBVA is "to offer digital products and services that are convenient and simple to use for the bank's 8.5 million customers." The investments made in Garanti BBVA Mobile have made it possible to significantly improve the quality of service. A service that was rewarded with the highest award in the banking category of the Stevie Awards. "Thanks to our experience in digital banking we can offer excellent service to our customers with this app that we recently updated and simplified," the executive said , reaffirming the bank's commitment to continue working to offer "the best user experience and improve our customers' finances."
Over 3800 enterprises and executives from more than sixty countries entered in this year's edition. Candidates were thoroughly reviewed and rated by a panel consisting from 250 top executives with different backgrounds.